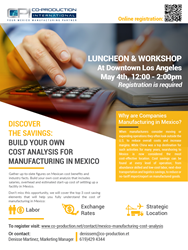 CPI invites attendees to make a concept into a concrete solution. Saving money by manufacturing in Mexico is apparent when you look at the hard numbers. We have always offered no-obligation cost analyses to interested manufacturers and are expanding that
Tijuana, Baja California, Mexico (PRWEB) April 13, 2017
Co-Production International (CPI) announces upcoming workshop "Discover the Savings: Build Your Own Cost Analysis for Manufacturing in Mexico" in Los Angeles, California on May 4th. For over forty years CPI has helped over 200 manufacturers establish operations in nearshore Mexico. As a regional expert in manufacturing, this no-cost workshop and luncheon will teach executives how to fully analyze the benefits and cost savings of expanding manufacturing to Mexico.
"CPI invites attendees to make a concept into a concrete solution. Saving money by manufacturing in Mexico is apparent when you look at the hard numbers. We have always offered no-obligation cost analyses to interested manufacturers and are expanding that offer with this workshop and luncheon," says Denisse Martinez, Marketing Director for CPI.
The Mexican state of Baja California, just south of San Diego, California, is home to over 600 medical device, electronics, automotive and aerospace manufacturing companies in Mexico from all over the world. This massive industry force is supported by an over 257,000-strong workforce. The border city of Tijuana has become a crucial global hub for manufacturing with over 50 years supporting industries looking to lower costs while still having next-door access to major North American markets. Over $1.5 billion dollars is traded bilaterally between the US and Mexico every day.
"For example, if you compare a company with 100 employees at a US versus Mexican facility, a manufacturer can save around $3.29 million dollars a year in labor costs alone. Come have lunch on us and let us teach you how to run the numbers." Martinez says, adding, "the workshop will cover up-to-date labor cost comparisons, as well as transportation, logistics and set-up costs. Additionally, we will highlight the industries currently operating in Mexico, showing attendees that success and a better bottom line are no further than away than next door."
For decades CPI has brought their expertise, network of partners and regional knowledge to companies looking to save money and increase competitiveness in the marketplace. In addition to no-cost analyses for doing business, CPI also offers personalized industrial tours so companies can see manufacturing in Mexico first hand. For companies interested in the cost savings workshop or in touring manufacturing facilities in Tijuana, contact CPI today!
Workshop details:
Date: Thursday, May 4th
Time: 12:00 – 2:00pm
Location: Downtown Los Angeles, please register for location details!
Cost: No cost! Includes hosted lunch.
To register for the workshop or for any questions, contact:
Denisse Martinez, Marketing Director
(619) 429 4344
denissem@co-production.net
###
Co-Production International is an administrative services provider located in San Diego, CA, offering successful business expansion solutions, shelter company services, day-to-day administrative duties, site selection, and the complete set-up of your operation in Mexico. For more information, or if you are interested in a cost analysis for expanding your operations to Mexico, visit http://www.co-production.net or call (619) 429 4344.