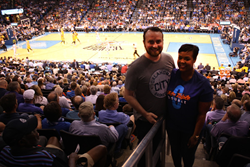 I was telling myself I wanted to be there for the team's last regular season home game so... I'm ecstatic.
Oklahoma City, OK (PRWEB) April 14, 2017
Taylor Sourie, an Oklahoma City Thunder fan from Edmond, Okla., was the lucky winner of two lower-level tickets to the team's matchup against the Denver Nuggets on Wednesday night. Her grand prize was sponsored by Planet Fitness, and also includes a year-long membership to the health club, known for its judgment-free zone.
The 30-year-old insurance agent said she has been a Thunder fan "since the beginning," and was very happy when she found out she won. "I couldn't believe it, I was super excited and I really wanted to be there. I was telling myself I wanted to be there for the team's last regular season home game so... I'm ecstatic," Sourie said.
She shared the experience with her boyfriend Sam, and also added that this has been one of the more exciting seasons for them as fans. "Just the last minute game winners—the buzzer beaters, have been really exciting."
Sourie won the prize through an online drawing, and will have one year of full access to any of Planet Fitness' 1,350 locations, with seven of them located in the OKC area. All clubs are open 24 hours, seven days a week. They include a wide variety of equipment such as treadmills, ellipticals, arc trainers and stationary bikes, which are pointed at large flat-screen televisions for member entertainment while working out.
The Edmond resident is already familiar with Planet Fitness, having been a member since February. "Working out at Planet Fitness has been a great experience. It's super chill and low key, and you can go in there and do your thing, and just be in your own zone. There's no pressure involved whatsoever. If I want to go in and only do cardio, no one judges me," Sourie said.
Planet Fitness also offers a popular 30-minute PF Express circuit room, dedicated abs and stretching room, a full complement of user-friendly strength equipment, the new PF-360 Circuit machine and locker rooms that include free day-use lockers, private changing rooms and tile showers.
"I am happy this grand prize went to such a deserving fan, and also want to thank the Oklahoma City Thunder for their partnership with this contest. My team is looking forward to seeing Taylor at one of our seven OKC-area locations, and hope she enjoys all the amenities we packed into those gyms," said Trey Owen, CEO of United PF Partners, a leading Planet Fitness franchise group that currently operates 67 locations across nine states.
Planet Fitness' mission is to provide a high-quality fitness experience in a welcoming, non-intimidating environment. With that in mind, each club features the brand's iconic "Lunk Alarm"—a purple and yellow siren on the wall used as a light-hearted, gentle reminder that grunting, dropping weights or judging others is not permitted. For more information or to join online, visit http://www.PlanetFitness.com or follow the brand on Facebook (http://www.facebook.com/PlanetFitness) and Twitter (http://www.twitter.com/PlanetFitness).
###
About United PF Partners
United PF Partners is the largest Planet Fitness franchise group with 67 locations across Alabama, Kansas, Louisiana, Mississippi, Missouri, Oklahoma, Pennsylvania, Texas, and West Virginia.
About Planet Fitness
Founded in 1992 in Dover, N.H., Planet Fitness is one of the largest and fastest-growing franchisors and operators of fitness centers in the United States by number of members and locations. As of September 30, 2016, Planet Fitness had more than 8.7 million members and more than 1,350 stores in 47 states, the District of Columbia, Puerto Rico, Canada and the Dominican Republic. The Company's mission is to enhance people's lives by providing a high-quality fitness experience in a welcoming, non-intimidating environment, which we call the Judgement Free Zone®. More than 90% of Planet Fitness stores are owned and operated by independent business men and women.