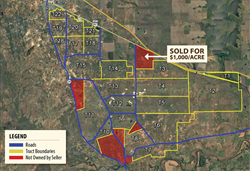 The auction will take place at the Holiday Inn Express/Wellington Conference Center at 5300 Kell Blvd in Wichita Falls, Texas.
WICHITA FALLS, Tx. (PRWEB) April 14, 2017
A property that has enjoyed a long history as a premier cattle ranch will soon be available at public auction on May 12 at 10 AM CT. The expansive 26,867± acre Hudson Ranch will be offered in 22 separate tracts and in combinations through United Country | AltaTerra Realty & Auction, in conjunction with United Country | Kansas City Auction and Realty and Mason & Morse Ranch Company | Strategic Partner of United Country Real Estate.
"This is an extraordinary opportunity to own one of the last true classic Texas cattle operations located in the Central Great Plains Eco-Region." said J.W. Ross, broker with United Country | Alta Terra Realty and Auction. "The property is blessed with all the necessities including oceans of grass, strategic water, great fencing and access to major highways, to name a few."
The property provides everything necessary to operate as a fully-functional cow-calf or stock/feeder cattle operations. The Northernmost portions of the ranch are mostly well-maintained pastures that could make great row crop fields. The property also provides the new owner(s) exclusive access to several thousands of acres of trophy buck country as well as numerous country home building sites with spectacular views. Tracts ranging from 315± acres to 3,767± are available.
The auction will take place at the Holiday Inn Express/Wellington Conference Center located at 5300 Kell Blvd, Wichita Falls, Texas. The minimum opening bid will be $440 per acre and a two-percent buyer's broker fee will be offered. "We are excited to offer this unique and amazing ranch at public auction," said Ross. "Not often do opportunities of this magnitude come available, and buyers should prepare to come out and compete for the right of ownership of this premier property."
For more information about the property and details about the auction, visit TexasCattleRanchAuction or call 903-491-1719.
About United Country
United Country Real Estate – a division of the United Real Estate Group – is the leading, fully integrated network of conventional and auction real estate professionals. The company has been an innovator in lifestyle and country real estate marketing since 1925. United Country supports nearly 500 offices and 5,000 real estate professionals across four continents, with a unique, comprehensive marketing program that includes the highest ranked and largest portfolios of specialty property marketing websites, the largest real estate marketing services company, an extensive buyer database of more than 550,000 opt-in buyers and exclusive global advertising of properties. For more information about United Country Real Estate or United Real Estate, please visit http://www.UnitedCountry.com or http://www.UnitedRealEstate.com
# # #