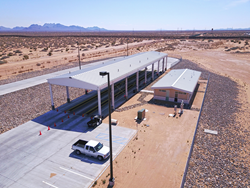 DeSoto, Texas (PRWEB) April 13, 2017
Palomar Modular Buildings worked with general contractor Brasfield & Gorrie to build the new Santa Teresa truck inspection station situated on the border at Santa Teresa, New Mexico. Palomar's role in the GSA contracted project was to construct the modular building intended for on-site housing and administration.
The project, part of the FMCSA Southern Border Program, is a Land Port of Entry site at the border of the United States and Mexico. The truck inspection station is comprised of site work, 55,000-square feet of paving, a 2,052-square foot administration building, and truck inspection pits covered by a large canopy.
The Santa Teresa administration building includes a public reception area with a restroom; an open office containing workstations; men's and women's staff restrooms and break room; as well as core support spaces, such as janitor/storage closets, and a LAN room. A perimeter poured-in-place strip footing foundation was used to place the modular building at grade level. The building was insulated with closed cell spray foam insulation and a continuous layer of rigid insulation. The windows feature insulated low-E glazing in aluminum storefront framing. The administration building's comprehensive HVAC system includes an air cooled split-system direct expansion heat pumps, a package terminal air conditioner cooling unit with head pump with electric heat, and a Package terminal cooling unit. Energy efficient LED lighting and low flow plumbing fixtures were utilized throughout the building. The building was pre-wired with CAT 6 rated network cabling. A stucco and cast stone exterior finish was employed to match existing buildings.
About Palomar Modular Buildings
Palomar Modular Buildings manufactures advanced modular buildings for a range of industries including office, retail, healthcare, education and workforce housing. The company's state-of-the-art manufacturing facility in DeSoto, Texas, is staffed with a dedicated team of skilled tradesmen and production managers that have produced hundreds of modular projects from simple additions to complex multi-stage facilities.
# # #
If you would like further information about this press release or to schedule an interview with John Martin, please contact John Martin at jmartin(at)palomarmodular(dot)com or call 1-866-312-4032.