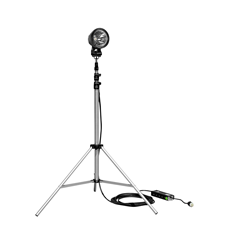 These tripod mounted LED work lights offer the same durable, yet compact, build as our standard line of LED light towers at a much cheaper price
Kemp, TX (PRWEB) April 15, 2017
Larson Electronics LLC, a leading industrial lighting company, announced the release of a new tripod mounted LED work light to be added to its expanding catalog of products this week. This portable LED work light is lightweight, compact and ideal for applications that require high voltage work equipment with the ability to step down to a lower voltage.
This tripod mounted LED work light (WAL-TP.S-1X25WRE-25-1227) features the LED WRE series of LED lights that are waterproof up to 3 meters, sealed against intrusion by dust and dirt and constructed to withstand demanding environments, conditions and applications. These LED work lights are also able to monitor and adjust input current to maintain the correct LED voltage levels, regardless of input levels across a specific range. They can operate on currents ranging from 12 to 32VDC without any modifications. Plug options for these tripod mounted LED work lights include standard 5-15 15 amp straight blade plug for 110V wall outlets with ground, standard 6-15 15 amp straight blade plug for 220-240V wall outlets with ground, NEMA L5-15 15 amp twist lock plug for 125V twist lock outlets, NEMA L6-15 15 amp twist lock plug for 240V twist lock outlets, British BS1363 13 amp fused 3-blade plug for United Kingdom outlets, or a two pin 16 amp rated Schuko plug with ground contact and socket for European outlets up to 250V.
This LED work light comes equipped with an adjustable aluminum tripod that can reach heights up to 10 feet and lowered to 3.5 feet for applications where a lower height is required or for storage and transportation. A single mounting bracket holds the dual LED light heads and allows them to be adjusted and aimed horizontally and vertically. This adjust-ability allows users to expand the area covered or to focus more intense coverage on a smaller area. The tripod legs can be collapsed and the light head bracket removed with the light still attached for simple portability and deployment.
"These tripod mounted LED work lights offer the same durable, yet compact, build as our standard line of LED light towers at a much cheaper price," said Rob Bresnahan, CEO of Larson Electronics LLC."This makes them just as powerful without sacrificing the quality."
About Larson Electronics LLC: Larson Electronics LLC is a manufacturer of industrial lighting equipment and accessories. The company offers an extensive catalog of industry-grade lighting and power distribution products for the following sectors: manufacturing, construction, food processing, oil and gas, military, marine and automobile. Customers can benefit from the company's hands-on, customized approach to lighting solutions. Larson Electronics provides expedited service for quotes, customer support and shipments.