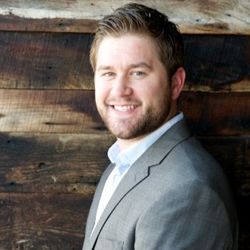 Chris's appointment supports the company's strategic direction while expanding our sales support coverage.
Nashville, Tennessee (PRWEB) April 18, 2017
RJ Young is pleased to announce the expansion of its sales team coverage with the promotion of Chris Clark to regional sales manager. Clark will oversee sales for the greater Birmingham and Huntsville, Alabama area territories. He joins a team of three additional regional sales managers for the Nashville, Tennessee based company, which is the third largest independent office equipment dealer in the Southeast.
Sales Vice President Mike Noffsinger of RJ Young commented, "I know Chris will hit the ground running with the newly created position and contribute additional growth to this already expanding market right away. Chris's appointment supports the company's strategic direction while expanding our sales support coverage."
"It's a great time to be part of RJ Young," said Clark. "I am excited to be part of our growth initiatives and honored to work for such an outstanding company. I look forward to getting to know and leading both the Birmingham and Huntsville teams."
Clark began his career at RJ Young in September 2011 as a sales representative. He moved into the role of sales manager the following year. Clark received both his undergraduate and graduate degrees at Delta State University located in Cleveland, Mississippi where he was a member of the University's Division II men's baseball team.
Clark's promotion comes on the heels of RJ Young's recent acquisition last month of ACS Technologies located in Birmingham, Alabama. Founded in 1975, ACS Technologies serviced the greater Birmingham, Tuscaloosa, Montgomery and Selma areas. As one of the state's largest office equipment dealers, the acquisition of ACS Technologies further widens RJ Young's footprint in Alabama.
About RJ Young
RJ Young is one of the largest independent office equipment dealers in the country, specializing in document management solutions, managed print services, IT services and office imaging. Headquartered in Nashville, Tennessee, RJ Young has been in business for 61 years and has over 520 employees in over 24 sales and service locations across six states. Under the corporate tagline "Your productivity is our mission," RJ Young helps modern professionals become more successful in their businesses with solutions to securely manage paper and digital information, maintain vital information technology systems and empower businesses with leading printing technologies. You can visit RJ Young online at: http://www.rjyoung.com.