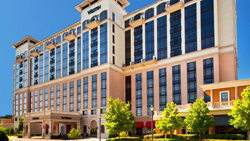 Crescent is thrilled to partner with the entire project team in transforming the Westin complex into this beautiful dual branded property with the addition of the Element
Huntsville, AL (PRWEB) April 18, 2017
The Element by Westin Huntsville is now open on the top floors of the hotel complex of the AAA Four Diamond Westin Huntsville. Both hotels are managed by Crescent Hotels & Resorts, a nationally recognized elite operator of hotels, resorts and conference centers throughout the United States and Canada, based in Fairfax, VA.
As one of Marriott's luxury extended stay lifestyle hotels, Element by Westin offers a modern upscale extended stay experience. The Element by Westin Huntsville boasts 150 beautifully appointed suites including 68 with full kitchens. Guests will enjoy the brand's signature Rise: Breakfast bar, a complimentary breakfast served daily; Relax: Evening reception, held nightly with wines, beers and soft drinks, thoughtfully paired with enticing appetizers; and Restore: Gourmet pantry, a market place with grocery options available onsite for the extended stay guests.
"Crescent has been closely involved with the development of the Huntsville Element, which I believe is the finest Element opened to date," said Michael George, President and Chief Executive Officer of Crescent Hotels & Resorts. "Crescent is an award winning Marriott operator and is thrilled to partner with the entire project team in transforming the Westin complex into this beautiful dual branded property with the addition of the Element."
In addition to the recently completed renovations, a substantial expansion of the social and meeting space is planned in 2017 with the addition of a second ballroom and IACC certified meeting rooms. Members of the International Association of Conference Centres (IACC) meet the highest quality standards in room design, food and beverage services and meeting technology.
While the Westin and Element by Westin are both Marriott brands, this is the first dual property complex in the country with both the Westin and Element brands in one location. Guests at both hotels enjoy spectacular views and easy access to the very popular Bridge Street Town Center, where the hotel complex is located. The Element by Westin Huntsville is now open for business, please visit http://www.elementhuntsville.com to learn more and book reservations.
About Crescent Hotels & Resorts:
Crescent Hotels & Resorts is an award winning, nationally recognized, top-3 operator of hotels and resorts. Crescent currently operates over 90 hotels, resorts & conference centers in the US and Canada. Crescent is one of the few elite management companies approved to operate upper-upscale and luxury hotels under the brand families of Marriott, Hilton, Hyatt and IHG. Crescent also operates a collection of legendary independent lifestyle hotels and resorts. Crescent's clients are made up of hotel REITs, private equity firms and major developers. For more information, please visit http://www.chrco.com or connect with Crescent on LinkedIn.
About Element:
Element® Hotels, part of Marriott International, Inc., is made to order for guests in the know and on the go. Its bright design defies convention, bathing guest rooms and public spaces in natural light. Stylish and sustainable throughout, Element offers extended stay comfort with a conscience and lots of signature amenities from its healthy RISE breakfast and RELAX evening reception to saline swimming pools, spacious fitness centers, bikes to borrow and electric vehicle charging stations. Element made history in 2008 as the only major hotel brand to pursue LEED certification for high-performance buildings brand-wide. Element is proud to participate in the industry's award-winning loyalty program, Starwood Preferred Guest®. Members can now link accounts with Marriott Rewards®, which includes The Ritz-Carlton Rewards® at members.marriott.com for instant elite status matching and unlimited points transfer. Visit http://www.ElementHotels.com or connect on Facebook and Instagram.