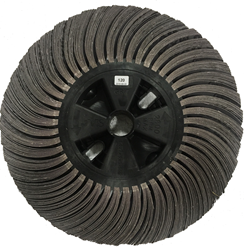 Many of our current customers have expressed their preference for our 6" flapwheels. Through in field testing at several customer sites the comments were repeated time and time again that 'these flapwheels are great!'
Orlando, FL (PRWEB) April 18, 2017
VIS, the front runner for heavy duty vehicle, truck and bus safety in the trucking and transportation industry for more than 20 years, is pleased to introduce new 6" flapwheels for the VIS-Polish Robotic Wheel Polisher. These new and improved flapwheels offer an injection molded hub, a flapwheel securement ring, a new type of sanding paper and better longeivity. With well over 1000 hours of testing, VIS is pleased to report there was not a single flapwheel out of balance. Additionally, no flapwheels blew apart (which is somewhat common in the industry). With a large on hand inventory, fast order shipping and email notification of orders shipping, VIS customers will know when to expect their orders.
Over the last several years many customers have asked why VIS didn't offer just a single size flapwheel. The wheel-end specialists listened to these customers. During the development of a 6" flapwheel, VIS developed a product that offered the flexibility of a 5" hub with the rigidness of an 8" hub. The new 6" hub offers the best of both worlds. Now, dealers need to only stock one size.
The VIS team of polishing experts have spent thousands of hours designing and testing the 6" flap wheels. When the flapwheels are ordered, customers will get tracking information sent to them. There will be no surprises or long wait times with the 6" flapwheel orders.
"We are excited to offer these flapwheels to our valued customers," Mark Keegans, Vice President of Sales and Service, said. "Many of our current customers have expressed their preference for our 6" flapwheels. Through in field testing at several customer sites the comments were repeated time and time again that 'these flapwheels are great!'"
To order VIS flapwheels online, visit the ecommerce site EverythingPolish.com or call 866-847-8721.