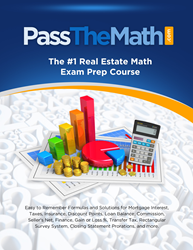 Math problems are the most often missed category of questions
Hollywood, Florida (PRWEB) April 26, 2017
"How can any school stay in business, or stay accredited, with a 57% failure rate?, asked James Lofton, Publisher of PassTheMath, a real estate exam math prep course. These failure rates are typical for most every state month after month, year after year. Who is at fault here? Are the schools not preparing the students for the test? Is the test too difficult? I don't think the states, schools, or the testing agencies care about the failure rate because they have a great revenue stream coming in."
To sit for the Florida real estate licensing exam a student must first pass a state approved course, which can cost from $100 online to $500 and more for a classroom course. The Florida state licensing exam consists of 100 multiple choice questions, and a student may only miss 25%. If you fail the state licensing exam 3 times you must pay again and retake and pass the state approved course.
To add insult to the injury of failing, the state approved real estate courses do little to prepare an individual for the real world of real estate. Students spend far too little time on core topics like contracts, closing statements, how to determine how much home their clients can afford, or how a new sales associate should brand and market themselves. Instead, students are asked to remember hundreds of new terms and words, most of which they will never use in their real estate career.
"We know the most often missed questions on the state real estate exam are the math problems, which is why I wrote passthemath.com," said Lofton. The math problems cause a tremendous amount of stress and anxiety which can lead to failure. With math problems consisting up to 30% of the problems on the exam, if you do poorly on math your chances of passing drop dramatically."
"The state licensing tests have gotten so difficult, students need to do anything and everything they can before sitting for the test, Lofton said. No matter what state you live in people are surprised if a student passes the test on the first try. The testing companies have hundreds and hundreds of obscure terms they can choose from for the test, and I believe they try and trick the students, in a misguided effort to make sure they know all the material. I could easily create a real estate exam that most people would fail, including seasoned real estate professionals. It is a must for all students to take exam prep classes, including specific real estate math prep."
James Lofton has 14 years professional real estate experience, including 8 years as a broker with a nationwide real estate brokerage. He has taken and passed multiple state licensing exams in several states.
PassTheMath.com is a downloadable real estate exam math prep course with 100% money back guarantee. It contains 47 real life math topics, complete settlement statement proration math problems, a settlement statement cheat sheet, and numerous general test taking tips and tricks. April is designated as "help you pass month" and the investment is reduced to $9.97.