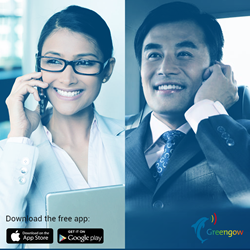 Amazing and Revolutionary APP
(PRWEB) April 19, 2017
Startup Greengow Technology Inc. pre-launchs a new app into the world market, starting in USA, Brazil and Russia.
"Using Greengow app, for instance, two friends, one French and one Chinese, can speak directly from their home country to an American friend, each one in their native language, keeping the originality and fluency of the conversation. Greengow interprets the tone and modulation of the original voice and translates for everyone on the same call in real time. A simple call or an audio-conference in multi-language groups has numerous advantages for the corporate world as well. Watch the demo video," says Carlos Tanaka, Project Manager of Greengow Technology.
The users can communicate in 10 languages: English, Portuguese, French, Spanish, German, Italian, Japanese, Korean, Chinese (Mandarin) and Russian.
Greengow APP is available for download on Play Store and Apple Store. Through this app, all the users interact with each other in their native language which makes the communication fast and efficient. In addition to being able to hear the voice in the original language, the user can also listen to the digital voice translated and read the transcribed message.
How to download:
1. Download Greengow for free at the the PlayStore or Applestore .
2. Wait for the code by SMS
3. Enter the code in the appropriate field
4. Enter your data
5. Ready! Now you can start a conversation in your language with anyone who speaks one of the ten languages of the app.