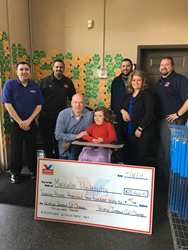 We will continue to grow the relationship between MDA and Valvoline Instant Oil Change. MDA is a fabulous organization and we are committed to helping send more and more children to camp
Lansing, MI (PRWEB) April 26, 2017
Sixty-four Valvoline Instant Oil Change locations in Michigan, Ohio, and Florida rallied employees and customers to help raise $23,466 to benefit Muscular Dystrophy Association's (MDA) Shamrock campaign. This money will help children with Muscular Dystrophy to attend a special summer camp.
This was the company's second year participating in Muscular Dystrophy's iconic paper Shamrock (pinup) campaign.
"We will continue to grow the relationship between MDA and Valvoline Instant Oil Change. MDA is a fabulous organization and we are committed to helping send more and more children to camp," says Cindy Hudson, Marketing and Sales Manager at the Valvoline Instant Oil Change franchisee.
…….
About Valvoline Instant Oil Change℠
Valvoline™, a leading supplier of premium branded lubricants and automotive services, has been serving American motorists for more than 150 years. Its operating segment, Valvoline Instant Oil Change℠, ranked as the #2 quick-lube chain in 2016 by number of stores, with more than 1,070 company-owned and franchised locations in the U.S. Its industry-leading model is built to deliver a quick, easy and trusted experience to every customer, every day. Visit http://www.vioc.com to learn more.
™ Trademark, Valvoline or its subsidiaries, registered in various countries
℠ Service mark, Valvoline or its subsidiaries, registered in various countries
About MDA
MDA is leading the fight to free individuals — and the families who love them — from the harm of muscular dystrophy, ALS and related muscle-debilitating diseases that take away physical strength, independence and life. We use our collective strength to help kids and adults live longer and grow stronger by finding research breakthroughs across diseases; caring for individuals from day one; and empowering families with services and support in hometowns across America.
Learn how you can fund cures, find care and champion the cause at mda.org.
Learn how you can fund cures, find care and champion the cause at mda.org.
-VIOC-