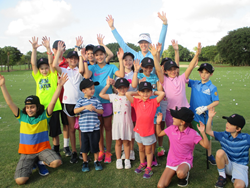 Each day our goal is to create a memorable experience for our members to enjoy with their families and guests
Boca Raton, FL (PRWEB) April 19, 2017
The Golf Department at St. Andrews Country Club recently won the 1st Place Blue Ribbon from the Club Manager's Association of America's (CMAA) Idea Fair for their outstanding success and creative implementation in their Holiday Golf Events.
St. Andrews CC offers a year round schedule of events in golf, tennis, fitness, spa, social and dining for members, their families and guests to enjoy and the Golf Department is no exception. Golf Holiday Demo Days, Holiday Mini-Golf with Morgan and Family Pitch & Putt bring members of all ages together to create new and memorable experiences.
The demo days offering a complimentary open bar and food trucks are hosted on the newly renovated driving range where members and guests walk around with ease to all the different hard and soft good vendors. Different golf club and apparel brands include Callway, Cobra, TaylorMade, Ecco, and Foot Joy, just to name a few. Golf Cart vendors Club Car, EZ-GO, and Yamaha are also in attendance. A great value-add to St. Andrews members is the special member pricing on all items which result in almost $25,000 in sales between all the manufactures on this one day.
The holiday mini golf event featuring Morgan Pressel, St. Andrews County Club's resident LPGA touring professional, is another popular event which features a pop up 6-hole miniature golf course on the putting green. During this event, Pressel greets each child with a personalized autographed hat and each hole offers unique instruction opportunities from the club's many PGA Golf Professionals. Winning scores in each age division are awarded a complimentary outfit of his/her choice in the golf shop which was recently named one of America's Top 100 Golf Shops by the Association of Golf Merchandisers.
During the Holiday Family Pitch & Putt, the driving range is modified into a 5-hole par three golf course with each hole supervised by a PGA Golf Professional and each hole stretches from 42-78 yards. The event is hosted during the holiday season giving members a chance to play with their children and grandchildren and winners in each age division receive a dozen golf balls of their choice. "Each day our goal is to create a memorable experience for our members to enjoy with their families and guests," said Paul Clivio, Director of Golf at St. Andrews Country Club. "Our Golf events are unique and geared towards members of all ages. Each event we create is different and constantly exceeds our members' expectations. We get overwhelming turnouts at each one and we will continue to implement these events for years to come," Clivio concluded.
"St. Andrews Country Club is known for setting the benchmark in the industry and providing exceptional events and services to our members and guests," stated Craig D. Martin, C.C.M. COO/General Manager of St. Andrews Country Club. "Our newly renovated Golf Pro Shop, Fazio II golf course and practice faculties provides our professional staff with the tools to deliver on our brand promise and Mission Statement to the membership," concluded Martin.
About St. Andrews Country Club
St. Andrews Country Club of Boca Raton, resident-only Distinguished Club from Boardroom Magazine and ranked in the Top Ten of America's Healthiest Club's is internationally recognized for magnificent estate residences and recently approved $25 million in renovations. Phases II and III of the Club Improvement Plan include the construction of a brand new Spa beginning Spring 2017 and a complete renovation of the Fitness/Tennis building beginning in Spring 2018. The Club features superior amenities, two 18-hole championship golf courses, including an Arnold Palmer Signature Design® and the brand new Fazio II. The club offers a comprehensive Golf Performance Center with indoor hitting bay, private practice area, V1 Digital Coaching System and FlightScope Launch Monitor® technologies, and a Callaway Golf® branded club fitting area. The Club features a full service spa and fitness center and a 125,000 square foot completely remodeled Clubhouse with five dining venues. A pristine Recreation & Aquatic Center features three pools, poolside dining, Splash Club and state-of-the-art playground equipment and air-conditioned game room. St. Andrews has played host to numerous PGA golf exhibitions led by touring pros such as Phil Mickelson, Arnold Palmer, John Daly and Rocco Mediate, and is the home course to LPGA Touring Professional and resident Morgan Pressel. Please visit http://www.standrewscc.com or follow us on Facebook, Twitter, LinkedIn, YouTube, Pinterest and Instagram.