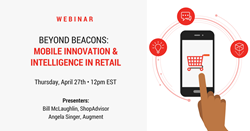 Boston, MA (PRWEB) April 19, 2017
Attend a webinar hosted by ShopAdvisor and Augment to learn how retail and brand marketers can incorporate the latest mobile innovations and data intelligence into their proximity marketing campaigns to enhance personalization, drive conversions and move the needle on their ROI.
Who: ShopAdvisor's SVP of Sales and Marketing, Bill McLaughlin, and Augment's Director of Product Marketing, Angela Singer
What: Beacons and geofencing have laid the foundation for making proximity marketing campaigns work. This past year alone, over 13 million beacons have been used to help retail marketers connect a consumer's phone near and in stores. While these tiny sensors have been an important component of a proximity marketing campaign, the truth is they are gradually becoming a commodity. Just knowing a shopper's location does not guarantee a successful engagement. So, what's next for conquering the offline-online divide as consumers become more savvy and better connected than ever before? How can brands and retailers enhance personalization where it matters most, and what intelligence goes deeper in powering those decisions? ShopAdvisor and Augment will discuss technology innovations that are providing data, context, and content to bridge the divide and drive conversions.
Topics to be covered on the webinar:
-Ways to use contextual insights to create the right mobile conversations with shoppers
-How product intelligence can mount successful marketing strategies
-How augmented reality is being used to merge the digital and physical worlds for a seamless shopper journey
When: Thursday, April 27, 2017 at 12 PM EDT
Where: Register at http://www.augment.com/webinars/beyond-beacons-mobile-innovation-and-intelligence-in-retail
Contact: Morgan Laskey morgan(at)shopadvisor(dot)com / Angela Singer angela.singer(at)augment(dot)com
Website: http://www.shopadvisor.com / http://www.augment.com/