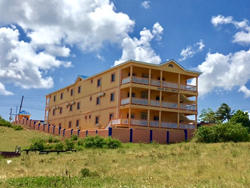 "The school plays a very important part in the local economy. I welcome the growth. I've already recommended two other local entrepreneurs to the school for future projects. Student housing is a great long-term investment with Trinity."
(PRWEB) April 21, 2017
Trinity School of Medicine continues to invest heavily in its St. Vincent home, the latest undertaking being the Ratho Mill Complex, a new student housing facility located across the street from the campus. The 26-unit apartment building is three stories tall, with beach-view balconies taking full advantage of the medical school's elevated, hillside location. The single bedroom units are furnished by local suppliers, and include full-size kitchens and separate study areas. The building itself also boasts full-time security for students, ensuring a safe, secure environment.
When asked to comment, the owner and project manager Mr. Roger Adams noted, "I met Mr. Wilson through a friend that already worked with the school. We quickly agreed on a contract and began the nine month construction. We had great support on this project, from the workers themselves putting in Sunday-to-Sunday efforts, to the Vincentian government's guidance, as well as local banks, suppliers, and my family and friends."
President Wilson agreed, "Trinity School of Medicine has been so graciously welcomed by the people of St. Vincent as a part of the community, so we're always excited when our growth can so directly contribute to the success and growth of Vincentian businesses." Mr. Adams added, "The school plays a very important part in the local economy. I welcome the growth. I've already recommended two other local entrepreneurs to the school for future projects. Student housing is a great long-term investment with Trinity."
About Trinity School of Medicine
Trinity School of Medicine is a fully accredited International medical school focused on helping students achieve their goals of becoming licensed physicians in the U.S., Canada, and Caribbean nations. Trinity is known for its early clinical experience, internally supportive and externally philanthropic campus culture, and a marked dedication to the study of excellence in medical education.
To find out more, visit http://www.trinityschoolofmedicine.org/