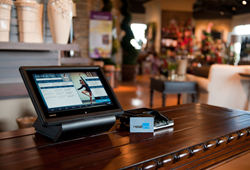 Folsom, CA (PRWEB) April 19, 2017
Retail Pro International today announced that its Retail Pro Link has achieved certification with the SAP Business One® application. The SAP Integration and Certification Center has certified that the Retail Pro Link 1.0 has been proven to integrate with SAP Business One, providing mid-size specialty retailers automated interchange of data and documents between Retail Pro and SAP Business One, with email notifications and alerts, and total control over interchange frequency for each document.
The Retail Pro link leverages DI-API and ECM communications to enable the smooth flow of pertinent retail data between Retail Pro Link and SAP Business One. Retail Pro Link will automatically receive data critical to store operations – like new products, product modifications, prices, ASN and other information – from SAP Business One, and will send back store data critical to performance tracking and retail management – like sales, tenders, customer details, vouchers, inventory adjustments and other store information.
This allows retailers leveraging the Retail Pro Link to achieve the following benefits:

Increased operational efficiency in the retail environment by keeping the Retail Pro and SAP Business One databases synchronized
Ease of use, flexible configuration, and total control over exchange parameters and frequency in Retail Pro and SAP Business One
Smooth cooperation between Retail Pro technology in stores and SAP Business One technology in the back office
Better allocation of data management labor resources by automating document-exchange execution and notifications
"We are pleased to announce the successful achievement of SAP certification for the Retail Pro Link solution," said Kerry Lemos, CEO, Retail Pro International. "The smooth integration of Retail Pro and SAP Business One will help retailers optimize and more effectively manage operations across their business. In addition, the global availability of both Retail Pro and SAP Business One is a significant benefit to our current and future retail customers, especially those with operations in multiple markets worldwide."
The SAP Business One application helps small and midsize enterprises (SMEs) and subsidiaries of larger businesses to instantly analyze growing volumes of data and gain the benefits of fast application performance while maintaining a streamlined IT landscape. Available on premise or in the cloud hosted by partners, it is designed with flexibility and choice in mind to help SMEs innovate and achieve scalable growth.
About Retail Pro
Retail Pro International (RPI) is a global leader in retail management software that is recognized world-wide for rich functionality, multi-national capabilities, and unparalleled flexibility. For 30 years, RPI has innovated retail software solutions to help retailers optimize business operations and have more time to focus on what really matters - cultivating customer engagement and capitalizing on retail's trends. Retail Pro is the chosen software platform for unified commerce strategy by retailers in 125+ countries. To learn more, visit http://www.retailpro.com
# # #
SAP, SAP Business One and other SAP products and services mentioned herein as well as their respective logos are trademarks or registered trademarks of SAP SE (or an SAP affiliate company) in Germany and other countries. See http://www.sap.com/corporate-en/legal/copyright/index.epx for additional trademark information and notices.
All other product and service names mentioned are the trademarks of their respective companies.
For more information, press only:
Alexandra Frith
Retail Pro International | Director of Marketing
+1 916 605 7210
afrith(at)retailpro(dot)com