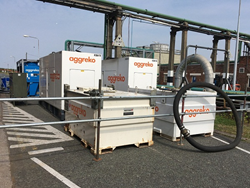 The thing that really impressed us about Star was the speed in which they reacted to our situation
London, UK (PRWEB) April 20, 2017
When AGC Chemicals Europe, a global producer of fluorochemicals, suffered a major failure of a heat exchanger, Star Refrigeration delivered a temporary refrigeration solution to save the company from an extended suspension in production which could have cost upwards of hundreds of thousands of pounds.
The equipment failure at the Thornton Cleveleys plant meant that AGC Chemicals could not operate its Methyl Chloride process line. The process fluid needed to be cooled to -330C which required specialist Low Temperature (LT) refrigeration equipment. Downtime on this process line is costly to the business if it is not operational, so it was essential that an assessment and plan of action was developed rapidly in order to deliver the right solution.
A team of senior engineers from Star's local branch attended site within half an hour of the call-out. The issues were established and the temporary solution requirements were identified. Thanks to a business partnership with temporary supplier of chillers, Aggreko, Star was able to deliver the specialist temporary temperature controlled solution to site within a short time frame. Aggreko provided 2 off VLTC chillers for approximately 150KW of cooling at -330C, 2 off heat rejection air cooled chillers, a special low temperature heat exchanger which was connected into AGC Chemicals process line, circulation pumps, a buffer tank and generators.
Rudolph Prince, Head of Engineering at AGC Chemicals Europe, said, "The thing that really impressed us about Star was the speed in which they reacted to our situation. We needed the equipment on site as soon as possible so we could start up production again with minimum disruption. It was all coordinated over the weekend, and the temporary solution allowed us to be fully operational again within a few days so we didn't suffer from further downtime".
In addition to providing a rapid response, Star Refrigeration also offered expertise on energy efficiency. The temporary solution provided turned out to be more efficient that the equipment which failed, delivering a more effective cooling process and allowing for a larger output. This allowed the site to catch up with the back log of production from the downtime very quickly once the plant was operational again.
This successful project highlights how Star Refrigeration's UK network can provide expertise and a rapid response in an industrial emergency situation. Whilst the equipment failure was unwelcome by AGC Chemicals Europe, it provided an opportunity for the company to discover how more efficient technology could benefit them in the long term, both economically and environmentally.
To find out more about Star Refrigeration and its UK-wide maintenance and service Operations group visit the website at http://www.star-ref.co.uk