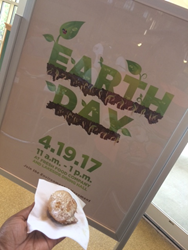 I am proud to partner with Aramark and Bama Dining
Tuscaloosa, AL (PRWEB) April 21, 2017
Saturday, April 22, 2017, is the 47th annual Earth Day—a national program that aims to educate the community on the environmental and economic benefits of waste reduction and recycling. The company well-known for environmental kitchen solutions, Filta, has continued its dedication to green practices, which has helped reduce waste across the country. Since coming to the United States in 2002, Filta has saved over 86,000,000 gallons of cooking oil through micro-filtration and recycled another 68,000,000 gallons of waste vegetable oil by conversion to biodiesel.
Across the country, Filta is participating in Earth Day sponsorships at many colleges, communities, and corporate events. The commitment to Environmental Sustainability is best demonstrated through the following core benefits:
Reduced consumption through professional fryer management. Proprietary technology micro-filters impurities out of used cooking oil to extend its life by an estimated 90%, reducing costs for restaurants while lowering their impact on the environment.
Recycled waste vegetable oil into biodiesel. 100% of all used fryer grease is collected without the problems associated with on-site waste oil bins, then it is refined to be used as a sustainable alternative bio-fuel.
Resolved humidity, odor, and food spoilage concerns associated with walk-in cooler environments using a eco friendly process of specially blended minerals that are scientifically proven to absorb excess humidity and gas molecules, resulting in an ideal refrigerated environment that consumes up to 10% less power.
Remedied drain flies, clogs, and other plumbing issues with effective service that uses 100% pure, live vegetative bacteria, which is biodegradable, non-pathogenic, and non-toxic. Not only safe for the environment, but has earned the prestigious Safer Choice designation by the EPA (Environmental Protection Agency).
One such event Filta participates is held at the University of Alabama Wednesday, April 19th. Hosted by Bama Dining and sponsored by JJ Paul, Central Alabama Filta Franchise Owner, the event gives students, staff, and faculty insight on the quantifiable impact Aramark's sustainability initiatives have on the environment.
"Green cleaning is a big part of Filta's Eco-Responsibility which is why we are excited to participate this year," said JJ Paul, local Franchise Owner. He continued, "Filta is dedicated to offering its clients' value, creating a safer working environment, and providing customers with the tools to increase the quality of their product, all while stewarding the environment. This is our community, it is where my family lives, and I am proud to partner with Aramark and Bama Dining at this year's event."
About Filta Environmental Kitchen Solutions
Established in the United Kingdom in 1996 and brought to the USA in 2002, Filta is the world's leader in commercial fryer and cooking oil management services and offers its services through a worldwide franchise network. Filta is dedicated to saving its client's money, creating a safer working environment, and providing customers with the tools to increase the quality of their product, all while preserving the environment. Filta services over 5,500 customers every week and has recycled over 2/3 of a billion pounds of oil and counting! http://www.gofilta.com