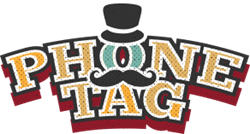 We took a timeless game format and augmented it with the power of connected mobile technology
(PRWEB) April 21, 2017
PhoneTag infuses a classic playground game with the fun and excitement of immersive online multiplayer. Play tag with friends anywhere, anytime from a mobile device with powerful social media integration.
Choose who to play with and the length of the game – then try not to get tagged! Interactive challenges keep the game interesting and the custom tag editor allows players to use their photos to tag other players.
"We took a timeless game format and augmented it with the power of connected mobile technology," said Josh Repko, co-creator of PhoneTag. "The game connects people and lets them compete for bragging rights, wherever they are."
Robust social media integration ensures that friends will always know who's leading during a game. The victories – and defeats – are there for everyone to see. Keep the game going and invite friends through Twitter or Facebook. Notifications and alerts in the newsfeed keep players on their toes and make the game exciting from beginning to end.
Tag opponents with customized pictures. Use a collection of pre-made photos and pictures, or use your own. A powerful photo editor allows players to decorate pictures with frames, stickers, and text and easily share it with friends and rivals alike.
PhoneTag is available to download for free on the Apple App Store for iOS devices.
PhoneTag was developed by Zco Corporation, one of the largest app developers in the world.
About PhoneTag
PhoneTag was dreamt up by co-creators Josh and Ashley Repko to deliver an engaging mobile gameplay experience derived from a classic game. Focused on delivering a personalized experience, PhoneTag aims to connect people in a new generation of entertainment. For more information on PhoneTag visit http://www.phone-tag.com.
About The Developer
Zco Corporation is one of the largest custom developers in the world. Founded in 1989 and headquartered in Nashua, New Hampshire, Zco has served Fortune 20 companies to small businesses for over 20 years. Its services include mobile and enterprise app development, 3D animation and games, augmented reality, and custom software. To learn more, visit http://www.zco.com.
####
If you are interested in more information about PhoneTag, please contact Kyle Mallinger at kyle.mallinger@zco.com.