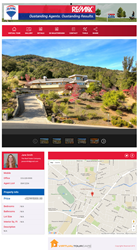 We are all excited to be working closely with VirtualTourCafe to offer this automated solution to our members." – said Tricia Thomas, Chief Executive Officer, Bay East Association of REALTORS
Pleasanton, CA (PRWEB) April 20, 2017
VirtualTourCafe, a nationally recognized leader in real estate virtual tours announced today in cooperation with the Bay East Association of REALTORS® and Contra Costa Association of REALTORS® that real estate agent and broker members can now create virtual tours, print flyers and videos, all automatically using the new VirtualTourCafe EZ-AutoTour™.
Under the agreement, members of both associations can subscribe to VirtualTourCafe with a substantial discount to take advantage of the automated real estate marketing suite of tools designed to help market and sell listings faster using the latest in online web 3.0 technology, and modern responsive design listing websites.
"Our members want modern, professional and easy to use tools to market their properties, and for virtual tours, print flyers and videos, VirtualTourCafe is able to provide this solution with their new EZ-AutoTour™. We are all excited to be working closely with VirtualTourCafe to offer this automated solution to our members." – said Tricia Thomas, Chief Executive Officer, Bay East Association of REALTORS
Earlier this year, VirtualTourCafe announced the new EZ-AutoTour™ for automated hands-free creation of a marketing suite for real estate agents and brokers, including a virtual tour, print flyer, video tour, and more, all done without any agent interaction… automatically, hands free!
VirtualTourCafe has been known for their slogan "Real Estate Marketing Just Got Easier" and this new feature is a great example of delivering on their promise to help real estate agents, brokers and associations be more successful marketers while spending less time on technology.
The VirtualTourCafe EZ-AutoTour™ feature allows a real estate association or brokerage to offer their members an automated tool to create a suite of marketing solutions. The marketing suite includes a virtual tour, print flyer and video, all hands-free. The agent can then customize, add video clips, panoramas, 3D Walk Through Home Tours and more if desired.
"We are always looking for ways to provide our members with the most innovative tools and technology available. VirtualTourCafe provides them with a modern, easy-to-use platform that will increase their efficiency and enhance the home search and buying experience for their clients," said Mr. Michele Manzone, President, Contra Costa Association of REALTORS.
Giving real estate associations and agents more options is what makes VirtualTourCafe so unique. With VirtualTourCafe the association, agents and brokers have a choice at both the association level and the agent or broker level to turn features on or off to customize their marketing plan.
The real estate virtual tours industry has been evolving over the years. Aerial drone and video and has become more widely used as well as the new 3D Matterport WalkThrough Home Tours. VirtualTourCafe has responded each time to offer a product that meets the needs of today's real estate professional. The new VirtualTourCafe includes the ability to create virtual tours from images, panoramas, video clips and even 3D WalkThrough Home Tours, all inside the modern responsive design listing website (virtual tour).
"Real estate agents should be focused on the core of their business, lead-generation, sales presentations and negotiations. Technology is a tool that when used properly should support the agent and not burden them with repetitive tasks that can be automated to help them be more successful!" said Tim Denbo, CEO/President of VirtualTourCafe.
About VirtualTourCafe.com
VirtualTourCafe is a limited liability company headquartered in Pleasanton, California with clients coast to coast and in three countries. The business offers real estate associations and brokerage site-licensing as well as individual agents Do-It-Yourself subscription service and full-service professional photography in a growing number of select markets.