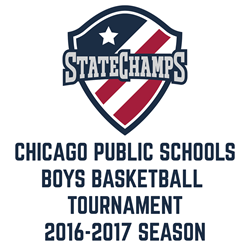 Chicago, IL (PRWEB) April 25, 2017
"Basketball in Chicago is a big deal, and with the assistance of StateChamps we were able to offer customized online ticketing services to not only our schools that participated in the tournament, but to our dedicated fans throughout the entire Chicagoland area and abroad."
StateChamps Online Ticketing offers a mobile-optimized ticket redemption feature that allows patrons and fans to purchase tickets to events online, and present their mobile device at the gate for quick and easy admission.
With flexible service options for host organizations, StateChamps was able to create a custom ticketing experience for Chicago's basketball tournament that fit Chicago Public School's needs. "Our unique circumstances of having neutral site locations made the StateChamps technology a perfect partner in our efforts," said Mr. Kemp.
Along with on-site support for the event, fans were also able to purchase their tickets over the phone thanks to a fully-staffed, U.S. based call center at the StateChamps headquarters in Birmingham, AL.
According to Mr. Kemp, the "on-site customer service and real-time assistance made it one of our most successful city championship tournament to date."
StateChamps Territory Director Kevin Bridges responded to the praise, saying "StateChamps is glad that our first tournament with the Chicago Public School system was such a success. A big thanks to Karl for his endorsement: we're looking forward to working with the city of Chicago for future events."
About StateChamps
StateChamps is the exclusive online ticketing solution for hundreds of high schools nationwide, including seven state high school athletics associations. StateChamps was also recognized as a preferred vendor and online ticket supplier of the National Interscholastic Association of Athletic Administrators. For more information, please visit http://www.statechamps.com.