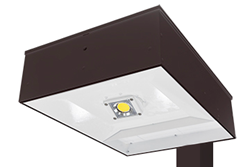 The factory can adjust the LED in 22.5° increments to direct the light to a specifically desired area while the fixtures are all mounted in a clean, uniform pattern
Georgetown, Texas (PRWEB) April 26, 2017
ActiveLED, Inc., a U.S. based innovator and manufacturer of performance LED lighting luminaires, announced today that it has formally introduced the FLB Series LED Shoebox Flood Light. This new fixture is engineered as an energy efficient replacement for high wattage Metal Halide and High Pressure Sodium light fixtures. The design boasts our LUM-INTENSE LED Lighting Technology and delivers over 136 Lumens per Watt and a total fixture light output of 23,588 lumens. The FLB Series Shoebox Flood Light is ideal for building and property perimeter security lighting. Other applications may include: tennis courts, parking lots and highway overpasses. REVIEW SPEC SHEET
"This new fixture is physically designed to appear as a traditional shoebox street or parking lot light," says Chad Randall, Vice President of Marketing for ActiveLED. "Instead of focusing the flood light by aiming the entire fixture in a particular direction, the factory can adjust the LED in 22.5° increments to direct the light to a specifically desired area while the fixtures are all mounted in a clean, uniform pattern."
While the FLB Series LED Shoebox Flood Light comes standard with a full 10 year, No-Light-Loss Warranty on both the fixture and LED driver, the fixture is designed to last anywhere from 15 to 18 years; delivering nearly two decades of bright, high-performance lighting.
The FLB Series LED Shoebox Flood Luminaires are available now for purchase. Learn more at ActiveLED.com. You can also contact us directly at 888-288-9080.
About ActiveLED
ActiveLED, Inc. is a subsidiary of Ringdale Industries and designs, manufactures and assembles high performance LED lighting luminaires in America. ActiveLED is based in the United States with offices in the United Kingdom, France, Japan, and Singapore.