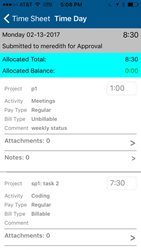 A time tracking system that's easy to use and easily accessible everywhere will yield better time data – enabling leadership to make better strategic decisions.
Austin, Texas (PRWEB) April 24, 2017
Journyx today proudly announces the release of version 10.1 of its mobile app, featuring a complete redesign of the user interface and the underlying business data architecture. Currently available on Android- and iOS-operated mobile devices, Journyx Mobile 10.1 makes time and expense tracking easier than ever for both employees entering their time and managers approving it.
New UI for a Better User Experience
In 2016, Journyx completely redesigned the user interface of its flagship products, Journyx and Journyx PX. Seven months later, the Journyx mobile app gets the same treatment, with more streamlined entry screens for quicker recording of time and expenses.
"Employees who need to track their time on mobile devices – such as frequent travelers or field employees – need an easy way to do so," said Meredith Zachritz, Director of Product Management at Journyx. "Journyx Mobile 10.1 puts this front and center with dramatically improved speed and performance, making the process of entering time as quick and painless as possible."
In addition to the improved user interface, Journyx mobile app users may now enter in and out times, along with hours worked – which approvers can also see when timesheets are submitted to them.
"This new feature, called Allocation Time Entry in browser-based entry, was a popular request from our customers," says Zachritz. "We definitely understand that every company is different when it comes to how they require employees to track time, so this provides an option to capture and match up work times with hours reported against projects."
Mobile Time Data Validation
The Journyx Data Validation Tool (DVT) allows companies to set up special rules for the automatic validation of time data entered into Journyx. Up until now, the enforcement of those rules was only available in the browser-based application. Journyx Mobile 10.1 now allows for enforcement of a company's data validation rules within the mobile app.
Empowering Employees to Track Their Time
In two separate studies, conducted in 2015 and 2016, Journyx asked participants about their biggest challenge when it came to tracking employee time in their organizations. The top response in both studies: getting employees to submit their timesheets on time.
"We hear about this challenge often from finance and accounting professionals, and the truth is that employees simply don't like filling out their timesheets," says Curt Finch, Founder and CEO of Journyx. "However, if you make it easy and painless to do so, employees are more empowered to track their time.
"This is where a mobile time tracking app comes in. A time tracking system that's easy to use and easily accessible everywhere will yield better time data – enabling leadership to make better strategic decisions."
Current Journyx customers can download version 10.1 of the Journyx mobile app from Google Play or The App Store by searching for "Journyx Mobile."
###
About Journyx, Inc.
Founded in 1996, Journyx offers customers two solutions to reach the highest levels of profitability: Journyx – project, time and expense tracking software – and Journyx PX – resource management software that provides work and financial forecasting for a complete picture of project and budget status, employee time and availability. Journyx has thousands of customers worldwide, including Crate&Barrel, Schlumberger, BP, Big Brothers Big Sisters, Callaway Golf, Honeywell and many others. For more information, visit journyx.com.