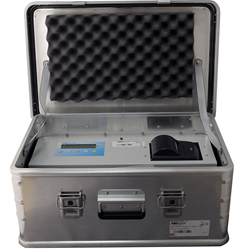 The TFT towing force transducer helps crash investigators pinpoint the vehicle's path and velocity before, during and after impact
Milton Keynes, United Kingdom (PRWEB) April 26, 2017
Adam Equipment, a leading provider of weighing instruments worldwide, will be an exhibitor at Forensics Europe Expo from 3-4 May 2017 at Kensington Olympia Exhibition Centre in London.
During the expo, Adam will spotlight its TFT towing force transducer, along with the HCB M Highland approved portable precision balance, and Nimbus precision and analytical balances.
The TFT towing force transducer is a specialised system used after an accident to determine vehicle speed prior to the crash. The TFT allows investigators to determine the sequence of events preceding a crash, and is especially helpful when no witnesses are available. Securely contained in a durable aluminum-clad carry case, the TFT includes a built-in printer to produce measurement documentation as evidence or for further analysis. An indicator displays force results within 1kg, and the indicator and case are connected to a sealed, IP65-rated load cell.
Forensic labs rely on Nimbus precision and analytical balances to help determine quantities and amounts of evidence collected during crimes. The Nimbus is available with internal or external calibration, which allows labs to calibrate using certified weights for traceability. This ensures the device is operating properly and has been maintained correctly, and also provides the lab with documented traceability when evidence measurements are used in court.
The HCB M features OIML and EC type approvals, so it is suitable for measuring drugs or other items to be used as evidence in legal proceedings. RS-232 and USB interfaces facilitate data transmission to computers or printers, allowing information to be shared between investigators or division offices.
To schedule an appointment to meet with an Adam representative during the expo, email sales(at)adamequipment.co.uk. For more information about Adam Equipment products, visit http://www.adamequipment.co.uk.
About Adam Equipment
For 45 years, Adam Equipment has designed and manufactured precision balances and scales for professionals worldwide in the laboratory, medical, education, industrial, food, animal/veterinary and jewellery markets. Adam is committed to offering an extensive selection of weighing equipment with best-in-class value. Headquartered in the United Kingdom, the company has strategically established offices in the United States, South Africa, Australia, China and Germany to provide product support and speedy delivery to distributors. For more information about the company and its products, go to http://www.adamequipment.com