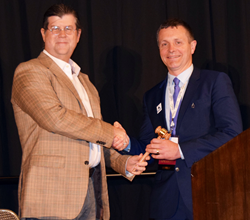 "It is a great honour and privilege to be president of our amazing society." -John J. Carey, ISCD President
Middletown, CT (PRWEB) April 25, 2017
The International Society for Clinical Densitometry (ISCD) is pleased to announce that the new President John J. Carey, President-Elect Robert Blank, and Vice President Chris Shuhart assumed office during the association's recent Annual Business Meeting in Orlando, Florida.
Carey, who hails from Galway, Ireland, is eager to bring the ISCD's standards of excellence in densitometry to a global stage. "It is a great honour and privilege to be president of our amazing society. As a member and supporter, I urge you and your colleagues to get involved in ISCD to support quality densitometry in your facility and around the world," remarked Carey in his message to members.
In addition to the transition of leadership, the annual ISCD Awards were presented during the meeting and recognized five outstanding ISCD members for their contributions to the field. Honorees are selected on the basis of their work in densitometry and their contributions to the ISCD. This year's recipients represent the best in the field of densitometry.
This year's honorees are:

Dr. David Hanley of Calgary, AB, Canada and Dr. Harold Rosen of Boston, MA -- Dr. Paul D. Miller ISCD Service Award
Prof. Dr. Klaus Engelke of Erlangen. Germany-- Dr. John P. Bilezikian ISCD Global Leadership Award
Dr. Sarah Morgan of Birmingham, AL -- ISCD Clinician of the Year Award
Monique Carroll, RT, CBDT of Richmond, VA-- ISCD Technologist of the Year Award
ISCD is proud to award its highest recognition to these individuals and is grateful for their continued support in promoting quality in densitometry. Visit http://www.iscd.org for details on the winners.
About the INTERNATIONAL SOCIETY FOR CLINICAL DENSITOMETRY (ISCD)
The International Society for Clinical Densitometry is the leading membership organization for professionals working to assess, monitor and treat skeletal health. Since 1993, ISCD has educated and certified practitioners performing and promoting quality skeletal health assessments with the goal of improving diagnosis, treatment and care.