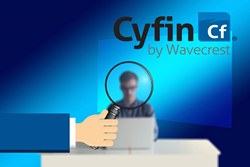 Our goal with Cyfin Forensic is to make the Internet-use investigation process much more efficient
Melbourne, FL (PRWEB) April 26, 2017
Wavecrest Computing announces the release of the newly enhanced Cyfin Advanced Forensic Log File Analyzer. Similar to forensic tools primarily used in investigations to determine, examine, and recover evidence or data related to computer fraud and crime, Cyfin Forensic supports Internet usage investigations by allowing the gathering and analyzing of pertinent evidence in a rapid, cost-effective manner.
"Cyfin Forensic is an important and exciting offering for us and our customers. The digital investigation process can be cumbersome considering the amount of data collected within a business today. Our goal with Cyfin Forensic is to make the Internet-use investigation process much more efficient," says Dennis McCabe, CEO of Wavecrest Computing. "For example, Cyfin easily works with all major firewall and gateway device log file formats and has the ability to process terabytes of data quickly, allowing for the identification of evidence faster and leaving more time to focus on the overall investigation instead of just on collecting and organizing the data."
Cyfin Forensic has expanded elements such as the ability to easily run ad hoc reports and the interactive detail in user audit reports. Since the log data on the server is a critical, tamper-resistant source of Web-use evidence for the investigator, Cyfin is server-based, avoiding potential complications if the user's system has been compromised. Whether used by large organizations with an internal Investigations department or by an independent Forensics Investigator, Cyfin Forensic is designed to increase case productivity which equates to decreased cost and time per investigation.
For more information, visit https://www.wavecrest.net or read the new Wavecrest technical brief: Forensic Investigation of Employee Internet Activity.
About Wavecrest Computing
Wavecrest has over 20 years of proven history addressing forensic requirements across various industries. Wavecrest has provided commercial business and government clients with reliable, accurate Web-use management and Advanced Log File Analyzer products since 1996. Forensics Investigators, Managed Service Providers, IT specialists, HR professionals, and business managers trust Wavecrest's Cyfin and CyBlock products to manage employee Internet usage -- managing cloud services, reducing liability risks, improving productivity, saving bandwidth, and controlling costs. Trusted by large government and commercial organizations such as, US-CERT Homeland Security, U.S. Department of Justice, USPS Office of Inspector General, National Grid, and a growing list of global enterprises and government agencies. We are a proud long-term GSA contract holder. For more information on the company, products, and partners, visit https://www.wavecrest.net.