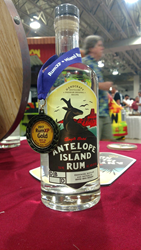 — changing the American rum industry, bringing back the art of craft distilling ... by emphasizing the quality aspects of small production
Miami, FL (PRWEB) April 26, 2017
Dented Brick Distillery is extremely proud to announce the award of Best of Class from the Miami International RumXP Competition for it's Antelope Island Rum. Winning this prestigious international award is gratifying, particularly given the level of competition. This worthy group of Competitors included industry leaders Bacardi, Mount Gay Rum, and Appleton Estate.
"We are extremely pleased with the reception our Rum has received over the last few months. Since it's release a year ago, we've had a number of high ratings and awards, but this is our greatest achievement to date," says Dented Brick's Marc Christensen. "We are all very proud."
The Miami Rum Renaissance Festival is home to the most prestigious blind tasting competition: The RumXP International Rum Expert Tasting Panel Competition. Rum promoter and author Robert A. Burr established the panel of experts to evaluate fine rums for this competition. Their collective expertise is unrivaled in the spirits world. These noted experts on cane spirits are often invited to appraise new rum products and judge spirits at international rum tasting competitions. Their combined experience spans many dozens of countries and hundreds of brands.
The RumXP International Rum Expert Tasting Panel convenes once a year in Miami to evaluate a wide range of cane spirits from all over the globe. RumXP judges are experienced evaluators of rum spirits from many countries, offering expert guidance in their selections of outstanding rum products. At Miami Rum Fest, they are sequestered for three days of discrete blind tasting sessions. The results are compiled by a seasoned staff of statisticians and the awards are announced at Miami Rum Festival.
The Miami Rum Renaissance Festival has established a dedicated presence for American Rums to spotlight the emergence of these craft spirits and deliver a unique learning experience for festival participants.
"We're delighted to search and discover the very best American rums to share with our friends at Miami Rum Fest and Trade Expo," said host Robert Burr, publisher of Robs Rum Guide. "From Alabama to Wyoming, from California to Maine, from Florida to Washington, we're reaching out to American Rum Producers at a time when the craft rum distilling movement is burgeoning, flourishing and expanding greatly."
According to the editors of Robs Rum Guide, the number of distilleries now producing rum in the United States is growing at a incredible rate, igniting what what can only be described as a new American Rum Revolution.
"In the past few years, more national, regional and local rum distillers are gaining well-deserved attention — with many making their mark as true artisan spirits by winning awards and setting new standards for authentic, hand-made rum," said Burr. "It's nothing short of a rum revolution — changing the American rum industry, bringing back the art of craft distilling, presenting American rum in a most favorable light by emphasizing the quality aspects of small production."
Before the American revolution, more than 8,000 distilleries in the American colonies were producing rum from the plentiful supply of molasses available through trade with Caribbean islands. Most ceased production by the time prohibition decimated the American spirits industry.
Now, it's coming back. Rum will once again be seen as the original authentic Spirit of America.
In addition to this most recent award, Antelope Island Rum has won a silver medal at The 2017 San Francisco World Spirits Competition More than 2,100 spirits were judged this year at San Francisco. Antelope Island Rum also won a silver medal at the Denver International Spirits Competition. Our Rum also received a 91 rating in the Tasting Panel Magazine.
This 80 proof, single batch original white rum recipe calls for organic evaporated green cane juice, molasses, and Artesian well water. The nose is sweet and inviting, with hints of fresh coconut water, vanilla and brine. Gentle on the palate, the pudding effect gets leaner in seconds, with dots of white pepper across the surgery core.