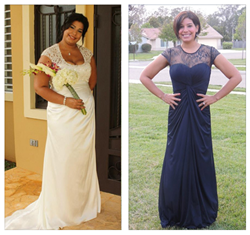 It's important for anyone considering a sleeve gastrectomy or other procedure to be aware of the challenges they will face
Los Angeles, CA (PRWEB) April 28, 2017
An April 24th article on Yahoo! Beauty discusses the case of Jessica Weber, an Illinois woman who has lost a stunning 180 pounds with the help of a weight loss surgery. The woman, declaring "I will not hate my body anymore!" posted pictures on Instagram of the loose folds of skin that have been left following her dramatic weight loss. Dr. Feiz & Associates notes that, while it often refers its patients to a skilled plastic surgeon to deal with the loose folds of abdominal skin that often accompany a major loss of weight, that's just one issue that might accompany a weight loss that patients need to be made aware of.
Dr. Feiz & Associates says that, while the vast majority of weight loss patients report being considerably happier and healthier following their surgically-assisted weight loss, it's important for anyone considering a sleeve gastrectomy or other procedure to be aware of the challenges they will face. First, and most importantly, they must understand that procedures make weight loss a lot more achievable, but it is by no means ever easy. The clinic states that patients must still work to radically alter their relationship with food, which is much easier said than done. Dr. Feiz & Associates adds that it keeps a registered dietitian on its team to help ensure that patients are making the correct adjustments in their eating while also obtaining sufficient nutrition.
Dr. Feiz & Associates also notes that patients should be prepared for concerns that might follow a successful weight loss. Aside from the matter of loose skin folds, that can typically be addressed with such surgical procedures as a tummy tuck, the clinic notes that sometimes patients may experience a sort of psychological let-down. They say that many severely obese individuals tend to attribute nearly all of their problems to obesity and are often surprised to find that the same issues remain with them even after they have lost all of their weight and improved their physical health and appearance. The clinic adds that patients benefit from ongoing contact with medical professionals to ensure that they are adjusting appropriately.
Dr. Feiz & Associates concludes by noting that weight loss surgeries have been tremendously helpful to men and women from all walks of life in terms of making permanent long term weight loss a great deal more achievable for severely obese individuals. At the same time, however, they need to have a realistic idea about their upcoming weight loss journey.
Readers who would like to learn more may contact Dr. Feiz & Associates by phone at (800) 868-5946. They can also the visit the clinic online at http://www.DrFeiz.com.