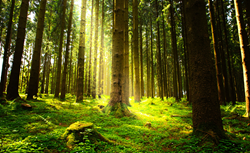 Our clients have realized the benefit of LED lighting and controls and are reaping the savings at an exponential rate
Plymouth, Minnesota (PRWEB) April 27, 2017
Lighting and controls provider Energy Management Collaborative (EMC) recognized a new energy savings milestone this Earth Day when its completed lighting retrofit projects exceeded 3 billion kilowatt hours (kWh) of energy savings for clients. The resulting 1.9 million tons of carbon dioxide removed from the environment is the equivalent of planting 54 million trees.
"Our clients have realized the benefit of LED lighting and controls and are reaping the savings at an exponential rate," said EMC President and CEO Jerry Johnson. "While it took 10 years to reach the one billion mark in 2013 and another two years to double the savings, we delivered this latest billion in just over a year."
Included in this latest achievement is energy savings from more than 7,600 retail stores. "Retailers have embraced LED lighting retrofits, which has allowed them to rapidly achieve sustainability goals and leverage more advanced technologies to support merchandising goals, while also drastically improving aesthetics and overall shopping experience," explained Johnson.
EMC's recently released EnergyMAXX Tool contributed to the accelerated energy savings. Businesses with several facilities across many geographies have particularly benefitted from this online analytics tool, which provides meaningful recommendations concerning the prioritization of their investment in lighting retrofits to ensure maximum energy and bottom line savings. The tool considers factors like existing lighting conditions, available solutions, project costs, incentive and rebate savings, and utility rates.
EMC's relationships with utilities across the United States were also critical to reaching the 3 billion mark. Duke Energy, Tennessee Valley Authority (TVA) and AEP Ohio all recognized EMC's performance and commitment to delivering significant energy savings to customers in their regions.
"Our success as a top performing partner to utilities across the United States has helped us achieve these energy savings milestones with our customers," said John Loheit, director of market development. "Our utility partnerships enhance our ability to expedite projects that accelerate energy savings, while also providing the full value of rebates to reduce initial project costs. It is a great value for our customers."
About EMC
Energy Management Collaborative (EMC) provides leading-edge lighting conversion systems and service solutions in a broad range of retail, commercial, industrial and government facilities in North and South America. Since 2003, the company has used its turnkey project management approach, EnergyMAXX, to successfully implement lighting upgrade projects in all 50 states and Puerto Rico, saving clients across industries over 3 billion kilowatt-hours of energy.