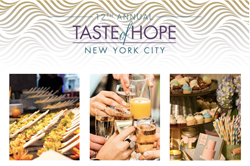 "It is an honor for us to support Taste of Hope because we want to play our part in contributing to help an important battle against cancer, which still affects so many people", says Maria Sabrina Tedeschi from Tedeschi wines.
(PRWEB) April 27, 2017
Vinitaly International is getting ready to celebrate with the American Cancer Society an eighth year collaboration which has seen top Italian wineries contribute to the fight against cancer through the donation of an impressive number of labels on the occasion of the annual Taste of Hope fundraising event at New York. Tickets are on sale now for the 12th edition of Taste of Hope to be held at the Metropolitan Pavilion in New York city on Tuesday, the 9th of May.
Donating for a charitable cause is becoming increasingly popular in the wine sector. Whether it is a raffle, a dinner, or an auction, there is a definite trend for wineries to make donations often based on very personal reasons or beliefs. Donating wine for a good cause, especially when health related, can also serve to emphasize the importance of drinking responsibly as well as living a healthy life. Wine is known as a source of polyphenols which are abundant in antioxidants that help prevent an array of health problems. Charitable marketing is therefore a great way for wineries to gain exposure for their business and get a large number of influential people to taste their wine.
"It is an honor for us to support Taste of Hope because we want to play our part in contributing to help an important battle against cancer, which still affects so many people", says Maria Sabrina Tedeschi from Tedeschi wines.
Daniela Mastroberardino from Terredora Di Paolo also agrees. "It is an honor to be able to contribute to support research against cancer with our wines. We hope to offer the participants an opportunity to think about the healthy Italian lifestyle by discovering unique grapes like our Fiano that has always stayed with us as part of the ancient Roman heritage."
Now in its 12th year, Taste of Hope is one of New York's most popular fund raising events and will be attracting, as in previous years, around 800-1,000 affluent epicureans and philanthropists from the New York metropolitan area. Lawyers, teachers, young professionals, and a number of celebrities will be able to enjoy an exclusive evening and taste signature dishes while sipping quality Italian wines thanks to the precious contribution of some of the most famous New York restaurants as well as the most important representatives of the wine and spirits industry. The event has raised over $1.9 million to support the American Cancer Society's mission and goal of eliminating cancer as a major health problem.
"Vinitaly has shown a strong commitment to our mission and we are thankful for their continued partnership," says American Cancer Society Executive Vice President Kris Kim.  "We are grateful to all the producers of the Italian wine community who generously support Taste of Hope."
Vinitaly International will supply an extensive selection of wines from Italian producers for the Wine Bar so that people can taste fine wines from all over Italy. Terredora Di Paolo, Tedeschi, Sartori, Banfi, Allegrini with their newest label from Tuscan estate of Poggio San Polo, just to name a few. "It is important for us to support such a cause at this very delicate time in history when human values are faltering", says Stevie Kim, Managing Director of Vinitaly International.
The Host Committee, Drew Nieporent, Owner of Myriad Restaurant Group and Culinary Honoree, David Burke, Award-Winning Celebrity Chef to name just two, will be joined this year by special guests Culinary Honoree, Chef Aarón Sánchez, and Survivor Honoree, Miri Torres.
The event offers Premium Admission for $275 per ticket and General Admission for $200 per ticket. Guests also have an option to purchase a VIP table of ten people for $3,000 or a VIP table of five for $1,500.
Tickets are on sale now at http://www.tasteofhopenyc.org. For more information please contact usa@vinitalytour.com, and follow us on Twitter @VinitayTour. The American Cancer Society is also on Twitter, @ACSTasteofHope.
About:
Veronafiere is the leading organizer of trade shows in Italy including Vinitaly (http://www.vinitaly.com), the largest wine and spirits fair in the world. During its 51th edition Vinitaly counted more than 4,270 exhibitors on a 100,000+ square meter area and 128,000 visitors from 142 different countries with more than 30,000 top international buyers (up by 8%). The next edition of the fair will take place on 15 - 18 April 2018. The premier event to Vinitaly, OperaWine (http://www.operawine.it) "Finest Italian Wines: 100 Great Producers," will unite international wine professionals on April 14th in the heart of Verona, offering them the unique opportunity to discover and taste the wines of the 100 Best Italian Producers, as selected by Wine Spectator. Since 1998 Vinitaly International travels to several countries such as Russia, China, USA and Hong Kong thanks to its strategic arm abroad, Vinitaly International. In February 2014 Vinitaly International launched an educational project, the Vinitaly International Academy (VIA) with the aim of divulging and broadcasting the excellence and diversity of Italian wine around the globe. VIA this year launched the third edition of its Certification Course and today counts 79 Italian Wine Ambassadors and 7 Italian Wine Experts.
About American Cancer Society:
For over 100 years, the American Cancer Society (ACS) has worked relentlessly to save lives and create a world with less cancer. Together with millions of their supporters worldwide, ACS help people stay well and get well, find cures, and fight back against cancer. The American Cancer Society is a nationwide, community-based voluntary health organization dedicated to eliminating cancer as a major health problem. Headquartered in Atlanta, Georgia, the ACS has regional and local offices throughout the country that support 11 geographical Divisions to ensure they have a presence in every community.