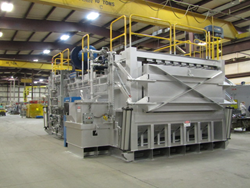 Riverside, MI (PRWEB) April 29, 2017
Lindberg/MPH announced the shipment of an aluminum central melting furnace to the die casting industry. This equipment holds 62,000 lbs. of aluminum and has a melt rate of 6,000 lbs. per hour.
The furnace is loaded with aluminum ingot, and sows across a preheat hearth and returns are fed via conveyor system into an exterior side well that is interconnected to a circulation well equipped with a pump. The aluminum on the hearth receives tremendous preheat before being pushed into the bath which increases efficiency and improves safety.
The melting furnace is capable of delivering molten aluminum to a transfer ladle through the use of a pneumatic well in which there are no moving parts. Air pressure is applied to the pumper by means of a blower and molten aluminum is forced up a special discharge tube and into a transfer ladle.
The metal temperature is controlled through digital temperature controllers and features automatic preheat and dry out. The flue gases are controlled with a mechanical flue damper reducing flue losses during low-fire operation. A three-point laser metal level sensor is provided to notify operators of the current furnace metal level through an attached light tree. A totalizing gas meter was also included to accurately measure gas usage. Access grating and ladder are provided for safe access to the roof mounted equipment during maintenance.
"Operator safety was a top priority for our customer. This equipment features options for added safety during the loading and dispensing processes." Andrew Paul, Sales Engineer
Unique features of this Lindberg/MPH furnace include:
•Rugged fully welded steel plate furnace construction
•High alumina castable lining for long refractory life backed with insulating board for efficiency
•Two charge doors located at either end of equipment for easy access during charging and cleaning
•Flue damper for energy saving during low-fire operation
•Work and drain taps
•Stand-alone control panel
•Temperature controllers with automatic preheat and dry out functions
•Three-point laser metal level sensor with light tree level indication
•Totalizing gas mater to accurately measure gas usage
•Start-up and installation services