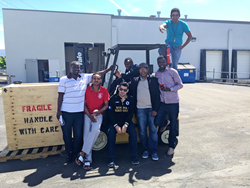 This short-term training is an example of how SLCC is helping refugees start down a path toward economic prosperity.
Salt Lake City, Utah (PRWEB) April 29, 2017
Salt Lake Community College and the Utah Department of Workforce Services have successfully coordinated efforts to help refugees in Utah train for new jobs and improve their earning potential. This partnership has resulted in a 100 percent completion rate for three cohorts of refugees in the warehouse and distribution training program during 2016.
"Some refugees come to the United States with great educational backgrounds, but other refugees may come and need to start at the beginning," said Deneece G. Huftalin, president of SLCC. "This short-term training is an example of how SLCC is helping refugees start down a path toward economic prosperity."
Each one of the 35 refugees who became certified through the warehouse and distribution training program at the Utah Refugee Education and Training Center on the SLCC Meadowbrook Campus found new jobs or improved their wages. The 2016 training cohorts were funded through a Utah Cluster Acceleration Partnership grant. Refugees received training at the Refugee Center, one-on-one assistance to create resumes and then support in preparing for and securing job interviews.
"We've learned that refugees typically earn a lower wage than the general population and we are working to change that in Utah," said Jon Pierpont, executive director of Workforce Services. "Providing refugees with the opportunity to find well-paying jobs and become self-reliant is a benefit to them, to their families and to all of us."
The Refugee Center, which is a partnership between SLCC, Workforce Services and Utah State University, fosters opportunities for refugees to access a variety of programs, trainings and higher education leading to family-sustaining employment, as well as supporting refugees' efforts to become integrated in Utah's communities.
In 2016, more than 25,000 refugees accessed programs at the Refugee Center, which hosted more than 1,600 workshops and activities including employment support, training, education, business development and skill development.
Salt Lake Community College is an accredited, student-focused, comprehensive community college meeting the diverse needs of the Salt Lake community. Home to more than 60,000 students each year, the College is Utah's leading provider of workforce development programs. SLCC is also the largest supplier of transfer students to Utah's four-year institutions and a perennial Top 10 college nationally for total associate degrees awarded. The College is the sole provider of applied technology courses in the Salt Lake area, with multiple locations, an eCampus, and nearly 1,000 continuing education sites located throughout the Salt Lake Valley. Personal attention from an excellent faculty is paramount at the College, which maintains an average class size of 20.