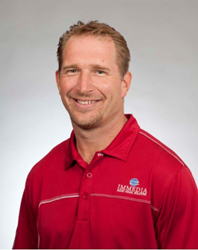 "I look forward to continuing to help our clients with cutting-edge technology, creating solutions which produce results in terms of increased efficiency, revenue, brand awareness, and cost-savings."
Scottsdale, Arizona (PRWEB) June 19, 2017
Immedia Integrated Technologies, an Arizona-based audiovisual technology solutions provider, is pleased to announce that Matt Blair has been appointed President.
Formerly General Manager, Matt has been with Immedia since 2013. As President, he will establish the company's overall goals and strategies, while presiding over Immedia's entire workforce. Matt will also oversee budgets, resource allocation, and individual department goals.
"Over the years, we have solved some difficult client challenges, bringing to light the industry expertise we have at Immedia," says Matt Blair. "I look forward to continuing to help our clients with cutting-edge technology, creating solutions which produce results in terms of increased efficiency, revenue, brand awareness, and cost-savings."
Matt has more than 20 years of experience in management and operations in leadership roles with a variety of engineering, manufacturing and technology companies.
About Immedia
Founded in 2004, Immedia Integrated Technologies (Immedia LLC) is a full-service technology company with a focus on integrated audiovisual solutions, including design, installation, automation, and digital signage. For more information visit http://immedia-tech.com.
Contact
Immedia Integrated Technologies
7661 E. Gray Rd
Scottsdale AZ, 85260
Phone: 480-483-3399
Email: service(at)immedia-tech(dot)com