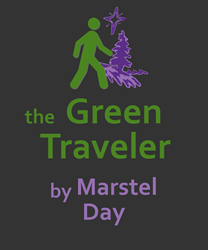 Fredericksburg, VA (PRWEB) June 02, 2017
Marstel-Day designed the Green Traveler mobile application to help users make sustainable decisions while they are on the road for work or leisure. The app also has a unique library of tips and advice for users to reduce their impact on energy, water, greenhouse gas emissions, and waste production, as well as a calculator to help users collect metrics that show how "green" they have been on their trips.
The Green Traveler has now been enhanced with geospatial capabilities to provide new options for travelers to map their trips, and provides value for government users working to comply with mandates to increase energy efficiency, reduce water usage, and decrease greenhouse gas emissions. These improvements are available free of charge for users in both the GEOINT App store and Apple's App Store, supporting sustainability efforts across the globe.
The National Geospatial-Intelligence Agency (NGA) created the GEOINT App Store to optimize the enterprise-wide delivery of geospatial intelligence (GEOINT) applications (apps) to thousands of users in the U.S. Department of Defense (DOD) and Intelligence Community (IC). Since its initial release in 2013, the App Store's cross-domain, intuitive self-service design implements commercial best practices and industry standards to ease the access, discovery, and download of state-of-the-art GEOINT apps that our users, customers, and partners need for their unique mission sets.
About Marstel-Day
Marstel-Day, LLC, is an environmental consulting firm that provides environmental solutions in such areas as water resources, land use, sustainable infrastructure planning, renewable energy planning, and natural resource services. To learn more about Marstel-Day, visit http://www.marstel-day.com/.