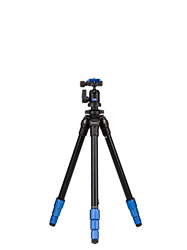 North White Plains, NY (PRWEB) June 09, 2017
Benro is pleased to announce the Slim, their latest collection of aluminum and carbon fiber tripods for photographers that delivers an ideal feature set for a remarkably affordable price. Perfect for beginning photographers looking to explore new techniques, or advancing photographers looking for a compact tripod for their on-the-go journeys, the Benro Slim features an inventive design that allows the tripod legs to be more compact when folded. With a maximum weight capacity of 8.8 lbs, the Slim is ideal for mirrorless and compact DSLR cameras.
Slim and Portable
Slim Profile Shoulder allows for the tripod legs to be more compact when folded.
Fast Twist Locks for Fast Setup
The Slim tripod legs feature anodized aluminum twist locks that only require a quick half turn to lock and unlock.
Enhanced Stability
A grooved center column prevents twisting when in use and can be reversed for low-to-the-ground shots. A weight hook is located underneath the center column for added stability in windy conditions. The rubber feet on the tripod are fixed.
All-Terrain Flexibility
The Benro Slim features a lightweight magnesium shoulder, which has 3 leg positions allowing for each leg to be positioned individually on uneven terrain. Leveling the Slim is made easy with dual bubble levels on both the tripod shoulder and on the quick release clamp.
Intuitive and Easy to Operate
The removable single action ballhead has a panoramic scale and an oversized ratchet-style lock knob for easy operation. The ballhead also includes a blue anodized aluminum arca-swiss style quick release plate and is equipped with a toolless 1/4"-20 camera screw.
Slim is available in both Aluminum ($79) and Carbon Fiber Legs ($119).
Additional Features & Benefits:
Available in either Aluminum or Carbon Fiber - To fit your needs and your budget
Arca-Swiss style Camera Plate - Blue anodized aluminum arca-swiss style quick release plate with a D-ring 1/4"-20 camera screw.
Lightweight Magnesium Shoulder - Features 3 leg positions and each leg can be posi-tioned individually for uneven terrain.
Removable Single Action Ballhead - Oversized ratchet-style lock knob for easy opera-tion plus a panoramic scale.
Gym-style bag – Makes it easy to take your tripod with you everywhere.
For more information, contact Brian Hynes, Benro Brand Marketing Manager at bri-anh@macgroupus.com
About Benro:
Benro continuously strives to develop lighter and stronger award-winning products to meet the needs of the most demanding professional photographers and filmmakers. By gathering input from photographers and filmmakers worldwide, Benro has been able to engineer products designed for use by working professionals. Benro products are exclusively distributed by MAC Group in the USA. For more information
visit: http://www.benrousa.com
About MAC Group:
MAC Group is a sales, marketing and distribution company dedicated to supplying photographers, videographers, educators and students with the world's finest image-making tools, education and inspiration. For more information on the MAC Group, please visit: http://www.MACgroupUS.com