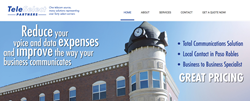 Our new website better reflects our local presence along with our unparalleled selection of telecom solutions from the top carriers and cable companies in the business
Paso Robles, Calif. (PRWEB) June 15, 2017
Teleselect Partners Managing Partner Todd McKiernan announced the launch of the internet service Paso Robles company's new website. "Our new website better reflects our local presence along with our unparalleled selection of telecom solutions from the top carriers and cable companies in the business," said McKiernan. Representing over 40 major internet service Paso Robles carriers, Teleselect Partners specializes in helping businesses reduce voice and data costs and improve the way businesses communicate. The company is an internet service Paso Robles, the Central Coast and Central Valley knows for its excellent reputation.
Business solutions provided by Teleselect Partners include the most competitive rate structures among all Internet service Paso Robles providers. The company's consultation services helps businesses identify savings and determine the best voice and data services while delivering the highest security, data protection and disaster recovery technologies.
By cutting through the confusion of special promotions and directly to the offerings, Teleselect matches the best services to business operating needs and finances. "We will find the best telecom solutions available at the best prices and we will also work with your vendors to insure a smooth transition of services," said McKiernan.
Seeing a need for a greater selection of telecommunication services for internet service Paso Robles, the Central Coast and Central Valley businesses, McKiernan founded Teleselect Partners in 2009. "We wanted to provide greater choices and savings to businesses looking for internet and telephone service," said McKiernan.
Teleselect Partners is based in Paso Robles, Ca. For more information about the company's services, visit the website or call (800) 557-3507 or (805) 233-1576.
Press release by Paso Robles advertising and marketing experts at Access Publishing, 806 9th Street, #2D, Paso Robles, CA 93446. (805) 226-9890.