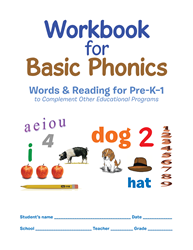 NEW YORK (PRWEB) July 03, 2017
During Melvine Groves' decades-long experience of teaching, she was inspired to complete "Workbook for Basic Phonics" through her interest in words, the children in her classes, and reading with students.
"Workbook for Basic Phonics" is an interactive guide for teachers and parents to use with their children. The interactive workbook uses bold colored numbers and vowel sounds, which will empower children and help them read complete sentences by the end of the book.
"The workbook not only stimulates success, but it helps readers gain confidence and builds self-esteem," said Groves. "To remain competitive with other nations and their educational programs, children need the strong foundation that my workbook offers."
Groves said she believes that the road to the reading journey is best started with the strong foundations of being familiar with the basics of sounds and symbols. Parents, teachers, and children will enjoy the collaborative workbook as it co-creates independence and sharing.
"Workbook for Basic Phonics"
By Melvine Groves
ISBN: 978-1-5144-8079-3 (sc); 978-1-5144-8080-9 (hc); 978-1-5144-8078-6 (e)
Available on Amazon, Xlibris and Barnes & Noble
About the author
Now a retired teacher, Melvine Groves taught elementary school for 30 years. Groves received a bachelor's degree from Emerson College and a master's degree from Bank Street College. "Workbook for Basic Phonics" is her first book. For more information, please visit http://www.melvinegroves.com/.
###
Review Copies & Interview Requests:
LAVIDGE – Phoenix
Courtney Coombes
480-998-2600 x 612
ccoombes(at)lavidge(dot)com
General Inquiries:
LAVIDGE – Phoenix
Maggie Driver
480-998-2600 x 584
mdriver(at)lavidge(dot)com