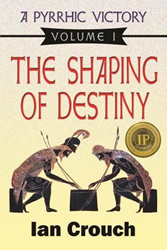 "Dr. Crouch succeeds splendidly in conveying a compelling interpretation of the lives and loves, the achievements and aspirations, of great men in a great age." – Dr. Eoghan Maloney, lecturer in ancient history at the University of Adelaide
(PRWEB) June 07, 2017
The Eric Hoffer Book Awards honor the memory of the great American philosopher Eric Hoffer by highlighting salient writing as well as the independent spirit. Dr. Crouch's book was short-listed for the Eric Hoffer Grand Prize, was a First Horizon Award Finalist (for a debut novel) and received an Honorable Mention in Legacy Fiction (for books published more than two years ago). The book has previously been recognized by the National Indie Excellence Awards in the category of Faction (fiction based on fact), won the NABE Pinnacle Award in Historical Fiction, and the Independent Publisher Book Awards (IPPY) Gold Medal in Historical Fiction – Military/War category. Volume 2, "Destiny Unfolds," has had its own recognition, and both books were recommended by the US Review of Books.
Shortly after the death of Alexander the Great, lived a young king, Pyrrhus of Epirus. The year is 301 BC, and as two armies prepare for battle, Pyrrhus will begin his career on the world stage that will change history. He will later be described by Hannibal as the finest commander the world has seen, after Alexander himself.
This extraordinary book is more story than history, yet it's based on fact and reaches out to make this period come alive for readers. A Pyrrhic Victory refers to a win that comes at such a high cost that it may well destroy the victor.
"Writing with great style, Dr. Crouch brings this ancient age to life once more; maintaining an expert balance between historical accuracy and creative imagination ... The book takes up the story of the gallant Pyrrhus: the most worthy of all the successors to Alexander the Great, he is the vivid central character who guides us through his world ... It is a journey detailed throughout with real authority, great care, and unflagging energy. Dr. Crouch succeeds splendidly in conveying a compelling interpretation of the lives and loves, the achievements and aspirations, of great men in a great age." – Dr. Eoghan Maloney, lecturer in ancient history at the University of Adelaide
About the Author: Dr. Ian Crouch, M.D., lives in Adelaide, South Australia. Since his early days in medical school, his abiding interest has been Greek and Roman history. He is currently writing the third and final volume of "A Pyrrhic Victory," subtitled "Fate."
Author's website: http://www.TheShapingofDestiny.com
A PYRRHIC VICTORY: VOLUME I, THE SHAPING OF DESTINY (e-Book and Kindle
ISBN: 978-1-61204-116-2), soft cover version (ISBN: 978-1-60911-914-0, $19.50) can be ordered through the publisher's website: http://sbprabooks.com/iancrouch. All formats are also available at Amazon.com and BarnesandNoble.com.
WHOLESALERS: This book is distributed by Ingram Books and other wholesale distributors. Contact your representative with the ISBN for purchase. Wholesale purchase for retailers, universities, libraries, and other organizations is also available through the publisher; please email bookorder(at)aeg-online-store(dot)com.