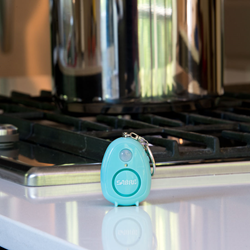 National Safety Month motivates us to get creative, and offer new products that combine multiple important functions into one easy to use system."
Chicago, IL (PRWEB) June 05, 2017
In honor of National Safety Month, SABRE has created the Personal Alarm with Motion Detector, Magnet & Key Ring—a versatile alarm that provides both active and passive protection against threats and intruders.
SABRE is the #1 pepper spray trusted by police and consumers worldwide and the creator of the most effective personal alarms on the market for men, women, and even children.
Their newest alarm is working overtime to provide the highest level of protection possible in any situation.
Personal Alarm Benefits:

Highly Functional – Place it on pool gates, attach it to hotel room doors, or set it on important personal belongings to deter prying hands. It has an up to 120 degree motion sensor arc that will activate instantly.
Versatile – Use it as a personal body alarm when walking to a car at night or when out on a run, or set it as a motion detector for passive protection.
Extremely Loud – It boasts a 120 dB alarm that will grab the attention of neighbors, hotel staff, or housemates up to 600 feet away.
Concealable – Its small size makes it easy to stow in pockets and purses, doesn't draw the eye, and means it can be used covertly.
Easy to Mount – It's made with a powerful, built-in magnet that can be attached to lamps, doors, desks and more for protection both at home and on-the-go.
"Every time National Safety Month rolls around we're asked to reevaluate our emergency plans and make new ones," said SABRE CEO David Nance. "It also motivates us to get creative, and offer new products that combine multiple important functions into one easy to use system."
The Personal Alarm with Motion Detector, Magnet & Key Ring is proof SABRE takes their job seriously. It's a cost effective way to prevent injuries, scare off attackers and thieves, and bring peace of mind.
About
SABRE, the no. 1 pepper spray trusted by police and consumers worldwide, is family owned and operated with four decades of experience and is the leading brand in personal safety. The company's law enforcement grade pepper sprays provide consumers with the same superior quality chosen exclusively by the New York Police Department, Los Angeles County Sheriff's Department and law enforcement agencies worldwide. SABRE has trained 3,500 officers around the globe on the use of force and how to use pepper spray. SABRE also has a line of consumer personal alarms and home security systems, and is dedicated to educating its customers. SABRE's Personal Safety Academy is available through certified instructors around the world to help teach personal safety skills to SABRE users. Learn more at http://www.SABREred.com, on Facebook at 'SABRE-Security Equipment Corporation', on Twitter @SABRERed or on Instagram @SABRESafety.