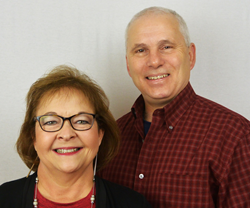 I want to take the stress of this transition off your shoulders. Before you try to handle your situation on your own, at least give us a call to talk about it.
Pontotoc, MS (PRWEB) June 05, 2017
Throughout her career as a realtor, Carla Lunn has seen her share of challenging transitions and difficult moves. Although she's always done her best to help, she's always seen a gap in local services dedicated to helping people sort through their memories, move, get resettled, host estate sales and more. Now she and her husband Matt Lunn are looking forward to being that one-stop shop with her new business, Caring Transitions of Pontotoc, Union & Lee Counties.
Caring Transitions' specially trained team can handle organizing, packing, de-cluttering, moving, resettling, in-person and online estate sales, liquidations, and preparing homes for market. Caring Transitions is America's largest resource for managing senior relocations, but the services are also perfect for busy families and individuals in need of assistance. Caring Transitions of Pontotoc, Union & Lee Counties serves Pontotoc, New Albany, Oxford, Tupelo, Saltillo, Amory, Booneville, Fulton and the surrounding communities.
"Over the years I've been a realtor, I've worked with many clients who are selling a family home, trying to settle the estate of a love one who has passed or who want to downsize. Those are all emotional situations and, although I've done my best to help, there isn't a one-stop-shop service in this area who can provide the kinds of services these clients really need, which is why I decided to open Caring Transitions," Carla said.
"Matt and I have both lost parents. My dad was pretty independent until the end of his life, so he only needed a little help, but Matt's mom had several health issues that required her to have some assistance, so he's experienced the kind of changes many of our clients are facing," she added.
Whether your situation is planned or unexpected, Caring Transitions' services are perfect for seniors moving in with family or into a safer living situation as well as busy families and people clearing out the home of a loved one who has passed. All of Caring Transitions' services are customizable, so clients only pay for the services they need – whether that means managing the entire move and estate-clearing or just getting someone resettled into their new place.
Matt and Carla married in 2001 and they have four children between them as well as one grandson. Matt has worked for Cooper Tire for the last 29 years and Carla owns Carla C. Lunn Realty & Appraisal in Pontotoc, Mississippi. She's been a realtor for 23 years and an appraiser of residential properties for 21 years.
"I had two clients this year with especially hard, long-distance situations. When you're driving 11 hours to clear out a house, whether you want to move in or sell it, you basically have to take time off work to make it happen. And, more often than not, you end up doing it alone. That's not how it should be. At Caring Transitions, we can help you with any and all stages of the process – whatever you need. We can come in to help you sort through the house and set up an estate sale, or we can help you pack boxes, or we can handle the entire estate. And, since I'm a real estate agent, I can even sell it for you," Carla said.
"I enjoy working with clients who are facing challenging situations. One of the unique things about Caring Transitions is that, unlike with a moving company, often our clients' estate sales cover the cost of our services. We also offer free quotes and can create custom plans to suit your needs," Carla said. "I want to take the stress of this transition off your shoulders. Before you try to handle your situation on your own, at least give us a call to talk about it."
Caring Transitions of Pontotoc, Union & Lee Counties is bonded and insured and all employees are background-checked. For additional information, contact (662)586-1330, email CLunn(at)CaringTransitions(dot)com or MLunn(at)CaringTransitions(dot)com, or visit http://www.CaringTransitionsofPUL.com.
About Caring Transitions
Caring Transitions, founded in 2006, is the first national franchising concept specializing in senior relocation and transition services. With more than 200 locations throughout the United States all owned and operated by Certified Relocation and Transition Specialists, Caring Transitions provides clients with supportive moves, auctions, rightsizing and transitions. This includes expert advice plus a well-executed transition plan beginning with the initial sorting of personal belongings through packing, shipping and selling of items to the final clearing and cleaning of the property. For more information, visit http://www.caringtransitions.com or visit us on Facebook.