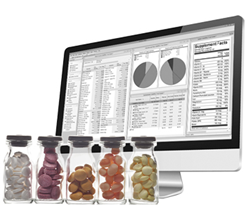 Genesis R&D Supplements version 1.2 gives our customers more flexibility when creating FDA compliant Supplement Facts labels.
Salem, OR (PRWEB) June 15, 2017
ESHA Research, the industry leader for labeling and compliance solutions for food and supplements manufacturers, today announced a major update for the company's Genesis R&D Supplements labeling and compliance software solution. ESHA's Genesis R&D Supplements customers already have the supplement industry's most advanced product formulation, compliance, and ingredient management solution available on the market, and now with Version 1.2, ESHA offers more flexible label formatting and improved speed and performance.
The latest program update incorporates critical user-requested features such as the ability to import ingredients and supplier data directly from Excel. The update also includes many new Supplement Facts label formatting options, including the ability to create labels for protein powders, display amounts for each component of an ingredient, and allow reporting of Vitamin D in IUs and %DV for Protein.
"With this update, our research and development team has further demonstrated our company's commitment to our customers through continuous program improvements," said Craig Bennett, CEO, ESHA Research. "Genesis R&D Supplements version 1.2 gives our customers more flexibility when creating FDA compliant Supplement Facts labels and eases the burden of importing ingredient and supplier data."
ESHA Research will be showcasing the newest version of Genesis R&D Supplements at this year's IFT show in Las Vegas, Nevada, June 25-28, 2017, Booth #1657.
About Genesis R&D Supplements
Genesis R&D Supplement Formulation and Labeling Software assists users in all aspects of supplement product development, including formulation, ingredient management, formula costing, advanced searching, allergen declarations, listing of other ingredients, Supplement Facts labeling using the latest 2016 FDA government regulations.
About ESHA Research
ESHA Research, founded in 1981, offers a variety of nutritional analysis and label development solutions to ensure regulatory compliance. Our software programs and databases have been used all over the world, by food manufacturers, educational facilities, restaurants, healthcare facilities, and other industry institutions for nutrient analysis, labeling, product development, and more. In addition, ESHA Research offers software and regulatory compliance consulting and label-generation services. Learn more about ESHA products at http://www.esha.com. For the latest in nutrition labeling & compliance news, find ESHA on Twitter, Facebook, Pinterest, and LinkedIn.