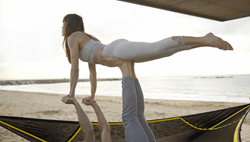 Whether they use it for fun, relaxation, workouts or yoga, people will find Levitat is the most versatile aerial mat in the world.
Barcelona, Spain (PRWEB) June 08, 2017
With just over one week remaining on Kickstarter, crowdfunders have driven the presales of Levitat aerial mats four times higher than the original campaign goal – investing more than $70,000 in "the ultimate suspended mat."
"We truly appreciate all the crowdfunders who have made our campaign a success," said Levitat Creator and Co-founder Enoc Armengol. "Whether they use it for fun, relaxation, workouts or yoga, they will find Levitat is the most versatile aerial mat in the world."
Levitat can comfortably fit three adults or five kids, and can be used as a hammock, bed, yoga mat, sunshade and much more. Lighter than two water bottles, Levitat aerial mats come stored in a handy backpack – and can be set up quickly and easily.
"Unlike other hammocks on the market, Levitat is designed so it can safely be hung between trees with ease – which makes it perfect for picnicking, camping or just hanging around in your backyard," Armengol said. "It only takes a few minutes for you to create your own personal oasis, whether you want to just recline in the trees and relax in nature, play with the kids or get an aerial workout of any type."
Levitat can be easily secured between three trees with a pole using reinforced tension T-straps – and installation only takes three minutes. For those who prefer a roof over their head, Levitat can also be set up indoors using walls or a framed base.
Levitat can be used for a variety of activities, including:

Outdoor or indoor fun and relaxation, whether used solo or as a multi-person hammock
Meditation, reading, or enjoying music - allowing users to take their mindfulness to a higher level of absolute peace and comfort
Yoga, offering yogis a new way to challenge themselves and focus more
Cross-training, which improves core strength and balance
The Levitat Team unlocked the light and easy-to-use Livi-net storage accessory as an add-on purchase option when it reached the crowdfunding stretch goal of $50,000.
When the funding from Kickstarter Backers reaches $100,000, Armengol says they will unlock "the third and most-desired stretch-goal accessory – a 'tree tent rooftop,' which transforms the Levitat into a portable treehouse that provides shelter from the elements and bug protection.
While early-bird specials have already been taken by backers, Levitat is still available at a 35 percent discount. For more information and to take advantage of early-bird discounts during crowdfunding, visit the Levitat Campaign Page on Kickstarter:
About Levitat
Levitat was created from the simple idea that a suspended mat could elevate, transform and help center a yogi's training and life. With unparalleled focus on design and innovation, the aerial mat offers ample space, combined with breathable, weather-resistant mesh perfect for any type of activity – or to sit back and relax. The versatile 360-degree design also creates a unique new experience for the user. For more information, visit levitatfly.com.