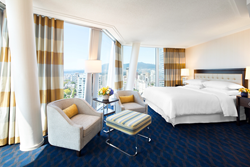 "Our seating program has the same philosophy we've always had: design first." - Daniel Berman, Sales Manager, BERMANFALK
Langley, BC (PRWEB) June 19, 2017
BERMANFALK has been providing quality, custom manufactured casegoods solutions to the hospitality industry for over ten years and is now expanding their capabilities to include seating pieces, in any fabric or finish.
BERMANFALK recently produced casegoods from designs by renowned designer Philippe Starck for sbe Hotel Group's luxury SLS properties in Las Vegas, Miami and New York. A selection of seating pieces manufactured for SLS Park Avenue (New York) were recently showcased at BDNY 2016 and BDwest 2017.
Recent seating projects also include the Sheraton Wall Centre Vancouver hotel with pieces designed by CHIL Design, and the Hilton Doubletree Victoria hotel with pieces designed by BBA Design Consultants Inc., both located in British Columbia, Canada.
BERMANFALK's expert manufacturing team is able to create seating for any application and with any specified materials. Ongoing collaboration with design and purchasing partners is of paramount importance to ensure the precise vision for the space is brought to reality through BERMANFALK's meticulous manufacturing and installation process.
The BERMANFALK team can create custom metalwork frames, perform precise fabric pattern matching, and finish a seating piece in any specified materials, including wood, metals like brushed bronze or stainless steel, stone and more. The process begins with describing and drawing out the designer's vision and goals for the space, and if requested, 3D models or full prototypes can be built of any seating piece, prior to manufacturing.
For inspiring casegoods and seating solutions that blend form and function with design vision, BERMANFALK can make it happen.
To discuss your next hotel project, contact Daniel Berman, Sales Manager, at dberman(at)bermanfalk(dot)com.
BERMANFALK is a design driven manufacturer of quality casegoods and seating for the hospitality industry. We have offices in Vancouver, Canada, Vietnam and China, and representatives and projects located throughout the United States and Canada. Our expert manufacturing team offers many custom services to ensure your design comes to life exactly as you envisioned, including metal fabrication and finishing, 3D modeling, and more. Contact us for your next hotel project at http://bermanfalk.com.