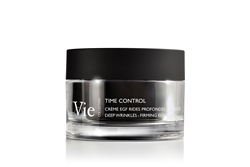 Vie Collection draws its inspiration from redensifying Epidermal Growth Factor (EGF) injections
SAINT-MALO, FRANCE (PRWEB) June 09, 2017
Vie Collection draws its inspiration from redensifying Epidermal Growth Factor (EGF) injections with the new TIME CONTROL Deep Wrinkles - Firming EGF Cream, designed to combat deep wrinkles, devitalization, loss of elasticity, loss of volume and sagging facial contours. EGFs are proteins naturally present in the skin and are able to boost cell growth capability and regeneration by initiating the synthesis of collagen, elastin and hyaluronic acid. With age, the natural concentration of EGFs in the body decreases and signs of aging appear. An EGF-Like Peptide is used in this formula to fill wrinkles and smooth and regenerate the skin. Pro-Collagen Peptides target fibroblasts within the skin to trigger a massive production of collagen for a redensified and firmed appearance. Skin is strengthened and recharged with energy thanks to trace elements and minerals infused within the moisturizer. Rich and creamy with a subtle feminine scent with notes of florals, musk and tea, TIME CONTROL is enriched with moisturizing and nourishing ingredients to reduce feelings of discomfort for those with thin and/or mature skin.
Directions for use: apply morning and evening to perfectly cleansed face and neck with upward movements. Tested under dermatological control.
TIME CONTROL Deep Wrinkles - Firming EGF Cream.............................50 ml, suggested retail price $189.50
Key ingredients:

EGF-Like Peptide - obtained by a chemical synthesis, the EGF-Like Peptide has the same molecular structure as EGF found naturally in the skin. It is attracted to EGF receptors and once connected to them strongly activates cell division. Cell regeneration becomes faster and more effective.
Pro-Collagen Peptides - synethetic peptides combined with bio-assimilable spherical particles, all of which has a marked effect on the synthesis of collagen. Each particle is bonded with 200 peptides. All of this together represents a highly technical ingredient used in biological research for delivering active ingredients to cells in a targeted matter.
Trace elements + minerals - an optimized trace mineral complex obtained from the combination of sodium, magnesium, zinc and manganese salts of Pyrrolidone
Carboxylic Acid (PCA).
Impressive Results

A Deep Wrinkle - Firmness Action After 1 Month
Anti-Wrinkle Effect
Scientifically Measured - Reduction of up to -18%.*

Skin is smoothed with reduced wrinkles for more than 7 out of 10 women.**
*Measurement of the smoothing and anti-wrinkle effect. Instrumental test on 21 volunteers, after twice daily use. Average value obtained on 13 out of 21 volunteers. Overall result -7%. **Satisfaction test on 22 women, twice-daily application for 28 days.
Vie Collection at a glance:
As a cosmeceutical expert in the spa industry, Vie Collection is a high performance, high-end skin care line focused on bridging the gap between traditional cosmetics and esthetic medicine. We are one of few spa brands with our own laboratory which allows us to always be on the cutting-edge of scientific progress in cosmetics. We offer in-spa solutions for a spa-savvy clientele that seek medical results but prefer the use of topical products. Vie Collection has targeted, non-invasive and clinically proven alternatives and complements to the top five cosmetic medicine procedures available today.
With the partnership of a prestigious French esthetic doctor, Vie Collection brings expertise, authenticity and real results in the form of expert formulations and treatments, from the finest ingredients.