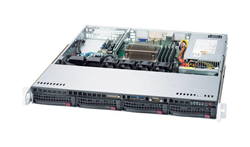 General Technics, Inc. has the right server for your business needs.
Ronkonkoma, New York (PRWEB) June 13, 2017
General Technics, Inc. has now added an entry level and a short depth rack server solution.
Our 1U SuperServers (GT140 thru 144) are the perfect entry level servers that provide great flexibility in a wide range of applications. They feature a Supermicro X11SSH-TF server board with two 10GBase-T LAN ports and VGA output and support two 2.5" internal and four 3.5" external drive bays. A slimline DVD-RW drive is included and Windows 10 Professional is pre-installed and fully tested for deployment.
http://www.gtweb.net/servers/26/1U-Supermicro-SuperServer
Our 1U Short Depth Rack servers (GT190 thru 194) are a great solution when rack space is at a premium and is ideal for short racks, mobile enclosures, desktops and media shelves. These systems also feature the Supermicro X11SSH-TF server board with two 10GBase-T LAN ports and VGA output. Both options support DDR4-2133 memory up to a total of 64GB.
http://www.gtweb.net/servers/38/1U-Short-Depth-Rack-Pc
Customize your system. For fine-tuned customization options, contact us by email, phone or online chat and one of our trained technical sales representatives can help you build the best system to match your application and budget.
General Technics' products are built on the most reliable platforms and are engineered to provide the highest levels of stability and confidence allowing your business and your users to stay connected across the internet while keeping your data secure.
General Technics is an Intel® Platinum Provider and has been in business since 1981 serving aerospace, science, data storage and cloud computing markets. We are committed to providing the best solutions for our customers, embracing new technologies as they emerge, and adapting to changing markets. As computers grow faster, smaller and more powerful, we will continue to make them accessible and affordable to you and your business.
Intel® is a trademark of Intel Corporation in the U.S. and/or other countries.
Sal Calvagna
Sales and Marketing
General Technics, Inc.
1981 Pond Rd.
Ronkonkoma, NY 11779
Phone (800) 487-2538
(631) 981-9473
Fax (631) 981-5038
Email: sal(at)gtweb(dot)net
Website: http://www.gtweb.net