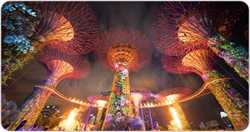 Through the deployment of 32 Roadster HD20K-Js for projections on the 'trunks' of eight Supertrees, we hope to create a world-class projection mapping show for the enjoyment of local and foreign visitors to mark this special occasion.
SINGAPORE (PRWEB) June 14, 2017
Christie's rental staging partner Hexogon Solution Pte Ltd created a spectacular visual spectacle that fascinated tens of thousands of spectators who turned up at Gardens by the Bay for an exciting multimedia showcase as part of its 5th anniversary celebrations on June 3-4.
The stunning projection mapping performance was planned and executed by Hexogon Solution using 32 Christie® Roadster HD20K-J 3DLP® projectors. Titled "Gardens Extravaganza Special", the highlight of this impressive show was none other than the vivid digital projections of flowers and bubbles across eight Supertrees - tree-like vertical gardens measuring between 25 and 50 meters in height with large canopies that dominate the 101-hectare nature park.​
Adrian Goh, Group Managing and Artistic Director, Hexogon Solution, said, "We are honored to collaborate with Gardens by the Bay to stage this eye-catching visual performance as part of its 5th anniversary celebrations. Through the deployment of 32 Roadster HD20K-Js for projections on the 'trunks' of eight Supertrees, we hope to create a world-class projection mapping show for the enjoyment of local and foreign visitors to mark this special occasion."
The 20-minute-long projection extravaganza, which included dazzling images of numerous varieties of flowers and striking patterns cascading across the projected areas, were totally created in-house by the Hexogon team. As well, the team fitted more than 120 light fixtures, 24 flame projectors and executed some special effect installations for the multimedia showcase, which culminated in a highly engaging visual treat.
According to Goh, most of the Roadster HD20K-Js were installed in custom-designed enclosures that enabled the projectors to continue operating even in wet weather, while the remaining projectors were set up inside a three-stacked container with proper air-conditioning and heat extraction. The entire installation process took the Hexogon team two weeks to complete.
Elaborating on the challenges of projecting onto the foliage-shrouded surface of the Supertrees, Goh said, "We had to apply almost three times the normal projection brightness to obtain a good light output. Moreover, it was difficult to get a perfect alignment on the landscape surface, so we had to make sure that the same stack of projectors was installed as close as possible. In terms of content, we had to 'reverse' the development process by throwing the color pattern on the Supertree to get a sense of the actual color variation, and then develop the content according to the formula."
Tapping on the valuable experience gathered during its involvement in Singapore's National Day Parades and the Singapore Formula 1 Grand Prix, the South East Asian sporting event in 2015 which accomplished a new Guinness World Records title for the greatest light output in a projected image, and the acclaimed "Christmasland in New Taipei City" event in Taiwan last year, the Hexogon team overcame the challenges to deliver a mesmerizing projection mapping show that charmed both young and old.
"We're pleased with the results. The contents were accurately presented on a very challenging surface, the projection brightness was sufficient amongst the hundreds of light fixtures, and the entire show was well-synchronized and coordinated. Ultimately, we hope that the show can create an enjoyable and memorable experience for all spectators, and allows them to appreciate these beautiful gardens that Singapore has to offer to the world," Goh said.
Able Liew, Deputy General Manager, Christie Singapore, commented, "We're very pleased that our Roadster HD20K-J projectors have played an important role in delivering a superb projection mapping performance at Gardens by the Bay's 5th anniversary through our valued partner, Hexogon Solution. As one of the most prominent rental stagers in the region, Hexogon Solution has constantly endeavored to create and deliver outstanding shows, and this one is no exception. We are proud of Adrian and his team in using innovative projection mapping techniques to tell the story of the Gardens' growth to become the iconic attraction it is today."
Ideal for large venues and events, the Christie Roadster HD20K-J is a 20,000 lumen, high-performance projector that provides unbelievably bright images with stunning detail and depth of color, releasing pure power with purpose-built features. Designed with built-in handles, an improved airflow system and multiple rigging points, this powerhouse projector stacks up against the rigors and stress of rental/staging. Featuring high-quality optics, 10-bit image processing and a variable contrast ratio of 1600-2000:1 for brilliantly crisp, detailed images, the HD20K-J is capable of delivering crisp, clean images with perfect color saturation and spectacular video.
About Hexogon Solution Pte Ltd
Headquartered in Singapore, Hexogon Solution has a robust in-house equipment inventory that supports some of the biggest shows in the region. It has one of the largest fleet of the latest state-of-the-art projection technology in the world, a strong content team which generates its own animation content for their shows, and a team of system design and integrators that realized some of the biggest and most renowned projects. Among the many digital projection projects in its portfolio include the Singapore Formula 1 Grand Prix since 2013, and five consecutive Singapore National Day Parades since 2012. For more information, visit http://www.hexogonsol.com.
About Christie
Christie Digital Systems USA, Inc. is a global visual and audio technologies company and a wholly-owned subsidiary of Ushio Inc., Japan (JP:6925). Consistently setting the standards by being the first to market some of the world's most advanced projectors, complete system displays, and cinema audio solutions; Christie is recognized as one of the most innovative visual technology companies in the world. From retail displays to Hollywood, mission critical command centers to classrooms and training simulators, Christie display solutions and projectors capture the attention of audiences around the world with dynamic and stunning images, accompanied by awe-inspiring sound. Visit http://www.christiedigital.com.