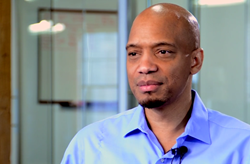 Baltimore, MD (PRWEB) June 13, 2017
RPI Consultants, a recognized leader in providing Infor Lawson Services, today announced that Wayne Tucker has joined the company as a Senior Lawson HCM Consultant.
Keith Wayland, Partner at RPI, commented "We are excited to add Wayne's experience to the RPI team. Finding the right talent is key to continuing to expand our HCM professional services practice."
Mr. Tucker, a recognized subject matter expert on Infor Lawson, has over 20 years of experience with payroll and human resources management and ERP implementation and upgrade experience. He has been a project manager and a consultant through many successful Infor Lawson HCM upgrades and implementations within the healthcare, public sector and other strategic markets.
"One of the things that struck me is the culture here with the partners. They're involved in everything," said Mr. Tucker. "I think that's very different and it seems like they're rolling their sleeves up. I'm very impressed with RPI so far."
Mr. Tucker has leveraged his business process expertise and extensive experience with Infor Lawson to lead many successful Lawson Talent Management (LTM) implementations. Across the Healthcare industry, he has been instrumental in helping clients maximize their investments in Global HR, Talent Acquisition and Performance & Goal Management. He has a bachelor's degree from Morgan State University and is currently based out of Atlanta, GA.
About RPI Consultants
RPI Consultants is a business applications implementation and optimization firm focused on delivering best practices through technology, systems integration, and process redesign. The RPI team includes certified technical and functional experts in Infor Solutions, Lawson, Perceptive Content, Perceptive Capture and Kofax as well as other automation technologies to enhance the procure-to-pay, financial reporting, and human resources processes.
RPI's model focuses on delivering solutions to specific business problems through on-demand strategic intervention. Our team-based approach allows us to leverage the best resources part-time, on a task-by-task basis, while working closely with our clients to identify opportunities to minimize costs associated with travel and downtime. RPI prides itself on providing customers with the most value for their dollar, delivering value-added information and genuinely caring about the outcome of an engagement.