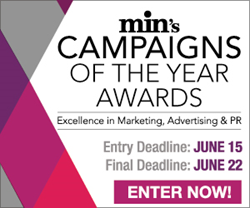 New York, NY (PRWEB) June 13, 2017
min's Integrated Marketing Campaigns of the Year Awards—formerly min's Integrated Marketing Awards—honors outstanding achievement in marketing, advertising, and public relations. The program recognizes exceptional initiatives in areas like mobile, social media, and experiential marketing. Entrants can submit work under different sub-markets including alcoholic beverages, beauty and cosmetics, general retail, and technology. The early entry deadline is Thursday, June 15 with a final deadline of Thursday, June 22.
Campaign Categories Include:

Alcoholic Beverages
Apparel and Accessories
Automotive
Beauty and Cosmetics
Drugs and Remedies
Food and Beverage
Finance, Insurance and Real Estate
General Retail
Home and Household Products
Technology
Telecom
Travel and Transportation
Special Recognition Categories:

Best Overall Experiential Campaign
Best Overall Mobile Campaign
Best Overall Social Media Campaign
Bootstrap Budget Buster (Small Budget, Big Results)
WOW! Award (Best Overall Campaign)
Year Over Year Award (Generated Largest YOY Growth)
For more information, visit http://www.minonline.com/campaigns-of-the-year-awards-2017/.
Winners of min's Integrated Marketing Campaigns of the Year Awards will be honored at a prestigious industry event on the morning of Tuesday, September 12.
For questions about min's Campaigns of the Year Awards, contact Zoe Silverman at zsilverman(at)accessintel(dot)com or 301-354-1662. For sponsorship information, contact Tania Babiuk at tbabiuk(at)accessintel(dot)com or 203-899-8498.
About min:
As magazine media evolves at a breakneck pace, min continues to be a trusted, one-stop resource for the mass-consumer magazine media industry. For more than 70 years, min has been serving its community with unparalleled content, events and awards programs that spotlight successes and innovations within the community and the wonderful teams behind them.