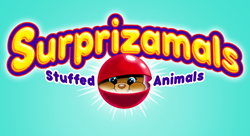 (PRWEB) June 13, 2017
Two time LIMA (Licensing Industry Merchandisers Association) president and Out of the Box Founder Jack Morrow has been named the Licensing Agent for Beverly Hills Teddy Bear's Surprizamals.
Effective immediately, Morrow will identify and pursue licensing agreements for categories of products that will compliment the product attributes of the Surprizamals core line. He has a strong licensing background with Plush and Toy Companies such as Applause and Dakin and was behind some of the Industries most successful licensing programs including the California Raisins which won Property of the Year in 1989.
"Jack has been instrumental in Beverly Hills Teddy Bear's success. I am looking forward to growing the Surprizamals brand into other categories around the world," says David Socha, CEO of Beverly Hills Teddy Bear Company.
About Beverly Hills Teddy Bear Company:
BHTB Co. is a full spectrum manufacturer that specializes in custom, private label and licensed toys, gifts and plush for both in-line retail sales and strategic promotions. For over 20 years, BHTB Co. has partnered with established companies worldwide to design, create and manufacture safe, high quality merchandise designed to work across all channels of trade.