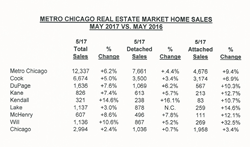 Eventually, the decline in inventory levels should start to restrain sales activity, but that hasn't happened yet.
ELGIN, Ill. (PRWEB) June 15, 2017
Home sales in the metropolitan Chicago area continued to deliver upbeat results in May despite a continuing decline in inventory levels, RE/MAX reports. Comparing results for the month with those a year earlier, sales transactions rose 6.2 percent to 12,337 units, the median sales price climbed 6 percent to $249,000, and the average time it took one of those homes to find a buyer fell to 77 days from 87 days in May of last year.
At the same time, the number of homes on the market at the end of May was down 16 percent from the year-earlier total and represented just a 2.6-month supply based on the May sales pace.
"Demand for homes remains strong across much of the metro area," said Jack Kreider, executive vice president and regional director of RE/MAX Northern Illinois. "Eventually, the decline in inventory levels should start to restrain sales activity, but that hasn't happened yet. Right now, it can be a challenging environment for buyers, but it's an excellent one for sellers. If you put your home on the market today at a realistic price, you can expect it to find a buyer pretty promptly."
Kreider also pointed out that the overall results in May suggest the metro Chicago housing market is ready to challenge its pre-Great Recession highs. May's results approximated those for May 2006 when sales totaled 12,409 homes at a median sales price of $250,000 and average market time of 85 days.
Sales data used by RE/MAX is collected by MRED, the regional multiple listing service. It covers detached and attached homes in the Illinois counties of Cook, DuPage, Kane, Kendall, Lake, McHenry and Will. Detached homes are typically stand-alone single-family dwellings. Attached homes include condominium and cooperative apartments along with townhouses.
In May, both total transactions and the combined median sales price rose in all seven counties in the metro area and in the City of Chicago when compared to May 2016.
Home sales rose most sharply in Kendall, up 14.6 percent, and Will, up 10.6 percent. Other gains were 8.6 percent in McHenry, 7.6 percent in DuPage, 7.4 percent in Kane, 5 percent in Cook, including a 2.4 percent increase in Chicago, and 3 percent in Lake.
The median sales price increases were fairly consistent, varying from 8.9 percent in DuPage to 4 percent in Will.
Sales of distressed homes, comprised of foreclosures and short sales, continued to dwindle as a factor in the metro market, accounting for just 8.4 percent of all May sales this year. That compares to 13.8 percent last year and 20.7 percent in May 2015.
Detached Homes
The market for detached homes remained strong in May, with sales rising 4.4 percent to 7,661 units in the metro area and the median price climbing 7.2 percent to $267,900 when compared to results from May 2016.
Average market time in May was 90 days, down from 98 days 12 months earlier.
Sales activity rose in six of the seven counties and was unchanged in Lake. The median sales price was up in all seven counties, led by gains of 11 percent in Kane, 9.7 percent in DuPage and 9.4 percent in Lake.
Sales in Chicago increased just 0.7 percent, but the median sales price rose 12 percent in the city to $256,500.
Attached Homes
Demand for attached units appeared especially strong in May, with closed sales up 9.4 percent from the prior May and the average market time dipping to 55 days. The median sales price gained 5 percent to $210,000.
Cook County, which accounted for 67.9 percent of May sales in the attached category, recorded a 6.9 percent sales increase, including 3.4 percent in Chicago. Meanwhile, the six other counties all had double-digit gains: 32.5 percent in Will, 14.6 percent in Lake, 12.7 percent in Kane, 12.1 percent in McHenry, 10.7 percent in Kendall and 10.3 percent in DuPage.
Average market time for attached homes ranged from a scant 33 days in Kendall to 76 days in Lake.
RE/MAX agents consistently rank among the most productive in the industry. In 2016, RE/MAX Northern Illinois agents averaged 18 transaction sides. RE/MAX has been the leader in the northern Illinois real estate market since 1989 and is continually growing. The RE/MAX Northern Illinois network, with headquarters in Elgin, Ill., consists of more than 2,250 sales associates and 103 independently owned and operated RE/MAX offices that provide a full range of residential and commercial brokerage services. Its mobile real estate app, available for download at http://www.illinoisproperty.com, provides comprehensive information about residential and commercial property for sale in the region. The northern Illinois network is part of RE/MAX, a global real estate organization with 110,000+ sales associates in 100+ nations.
EDITOR'S NOTE: RE/MAX® is a registered trademark. Please spell in all caps. Thank you. This release is posted at blog.illinoisproperty.com.