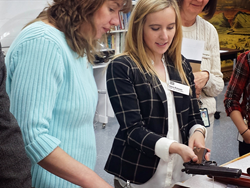 Wyoming is quickly becoming a destination for young professionals in a variety of industries.
Cody, Wyoming (PRWEB) June 15, 2017
The Wyoming Business Report (WBR) has announced this year's honorees for its "40-Under-40," a group of young professionals the Report has tapped as the next generation of leaders shaping the future of Wyoming. Included on the list is the Buffalo Bill Center of the West's Cody Firearms Museum (CFM) Curator, Ashley Hlebinsky.
"Lots of public officials decry the 'brain drain' that leads so many of our young people out of the state for schooling or for their first jobs," WBR Editor M.J. Clark writes, "but the great thing is that many of our talented workers are returning to Wyoming, bringing with them insights and training that will enhance our economy."
"I'm an East Coast girl—or what ranchers might call a dude—and I've fallen in love with Wyoming, the least-populated state in America," Hlebinsky says. "I'm so hooked on its landscape and the community it provides, but I'm also impressed with the diverse opportunities for young professionals, as evidenced by this amazing list of peers."
The 40-Under-40 honorees hail from every corner of Wyoming—12 counties of the state's 23 represented—and their number is almost equally divided between men and women. They include individuals in finance, banking, business, non-profit organizations, ranching, hospitality/tourism, and government, among others. Those nominated by their employers, professional associations, or community organizations met four main criteria to be considered for the award: live and work in Wyoming, have a significant impact in their professional field including specific recognition for their work, involved in the community, and be less than 40 years old by December 31, 2017.
"When I learned of my nomination, I joked that many people outside the state may not even know there are 40 people under 40 in the whole state—but they would be so wrong," Hlebinsky adds. "Wyoming is quickly becoming a destination for young professionals in a variety of industries. Even the popular Condé Nast Traveler labeled Wyoming the 'Most Feminist State Ever' because of the number of people who can come here and thrive in their careers. In choosing the 40-Under-40, WBR has made it possible for individuals, both inside and outside the state, to become acquainted with the number of amazing, next generation professionals we have here in Wyoming."
Hlebinsky serves as the Center's Robert W. Woodruff Curator of the Cody Firearms Museum. She earned a master's degree in American History and Museum Studies from the University of Delaware, where she studied the perception of firearms in culture. She spent three years in research at the Smithsonian Institution's National Firearms Collection in Washington, DC, a position that helped facilitate the Center's acquiring the loan "Journeying West: Significant Firearms from the Smithsonian" now on display in the CFM.
Now in her sixth year with the Center of the West, Hlebinsky assumed the curator position in January 2015. She is a sought-after speaker, writer, and multi-media personality on the subject of firearms—both from the academic community vantage point, and from the perspective of the firearms industry. Her current focus is the study of the glamorization and stigmatization of firearms, both in modern culture and in museums. She also is a freelance writer, has appeared on both national and international television networks, and was recently tapped as consulting producer for several firearms history and culture-related multimedia. Read more about Hlebinsky's work at centerofthewest.org/explore/firearms/media.
In addition to her curatorial duties at the Center of the West, Hlebinsky teaches firearms safety and history with school groups from elementary through high school. Outside the Center, she is an NRA Certified Instructor as well as a Well-Armed Woman instructor. She's served as a Bright Futures Mentor for school-age kids, regularly speaking to school and youth groups on bullying and "embracing who you are so that you can have a happy life and set yourself up for success."
Founded in 2000, Wyoming Business Report (WBR), the state's first and only state-wide business newspaper, delivers breaking news, in-depth analysis, research, economic statistics, and coverage of key industries of Wyoming and the region. The organization produces monthly print editions, special print publications, daily e-news, and special events for all of Wyoming related to business. To read about all the 40-Under-40 honorees, visit the WBR website. To stay abreast of all the Center of the West stories, monitor its newsroom.
Since 1917, the award-winning Buffalo Bill Center of the West in Cody, Wyoming, has devoted itself to sharing the story of the authentic American West. The Center, an affiliate of the Smithsonian Institution, is currently operating its summer season, open daily 8 a.m. – 6 p.m. For additional information, visit the Center's website or its pages on Facebook and Google+. #100YearsMore